Charley Pride (born March 18, 1938 in Sledge, Mississippi. Died December 12, 2020 in Dallas, Texas) is one of the few African-American musicians to have had success in the country music industry. In 1993, Pride was inducted into the Grand Ole Opry, 26 years after he first played as a guest. He was awarded the prestigious Academy of Country Music's Pioneer Award in 1994 and elected to the Country Music Hall of Fame in 2000.
Young Charley loved music, and taught himself to play the guitar, but his life-long dream was to become a professional baseball player -- and that's how he came to Helena in 1960, as a member of the East Helena Smelterites.
In 1952, Pride pitched for the Memphis Red Sox of the Negro American League. He pitched well, and, in 1953, he signed a contract with the Boise Yankees, the Class C farm team of the New York Yankees. During that season, an injury hampered his pitching, and he was sent to the Yankees' Class D team in Fond du Lac, Wisconsin. Later that season, while in the Negro Leagues with the Louisville Clippers, he and another player (Jesse Mitchell), were traded to the Birmingham Black Barons for a team bus!
He pitched for several other minor league teams. Pride appeared to be advancing to a career in baseball, but the U.S. Army derailed this. After serving two years in the military, he tried to return to baseball. Though hindered by the injury to his throwing arm, Pride briefly played for the Missoula Timberjacks of the Pioneer League, but was cut.
It was then that Kes Rigler, manager of the East Helena Smelterites, hired Charley. It was a good move. (the smelter kept 18 jobs open for ball players, regulating their days off so they could have a team). Not only did Charley make good money working at the smelter, he helped boost the Smelterites winning average.
Rigler soon discovered that Charley could sing as well. Rigler paid him $10 to sing over the PA system for fifteen minutes before games, which was the same amount he got paid for playing the game. Charley's singing boosted attendance...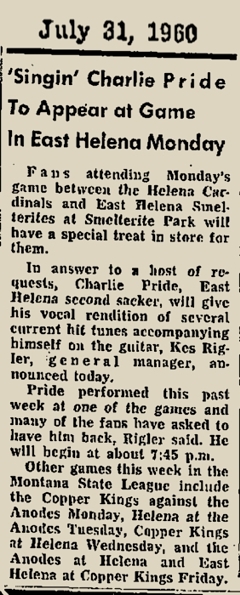 After the games, Charley would play at various local nightspots, sometimes as a solo and other times as a member of a combo...