Gabel's Machine Works
502 Fuller Avenue • 1910-1945



COURTESY OF JAN FUSCO • CLICK ON IMAGE FOR A LARGE VERSION IN A NEW WINDOW
Jan Fusco writes:
My parents, grandparents, great-grandparents and great-great grandparents all lived in Helena. I am sending you a couple of pictures of my Great uncle's (Joe Gabel) machine shop which was located at 502 Fuller Ave. When he bought the business, in the early part of the 1900s, it was called "Western Foundry & Machine Works" until my uncle changed the name to "Gabel's Machine Works". He probably purchased the business around 1910 and the business was there for many decades. The pictures I have enclosed show the doorway to the Western Foundry with Joseph Gabel on the left and Elmer Wallace -- my grandfather, who worked there as a machinist all his life.
Site of Gabel's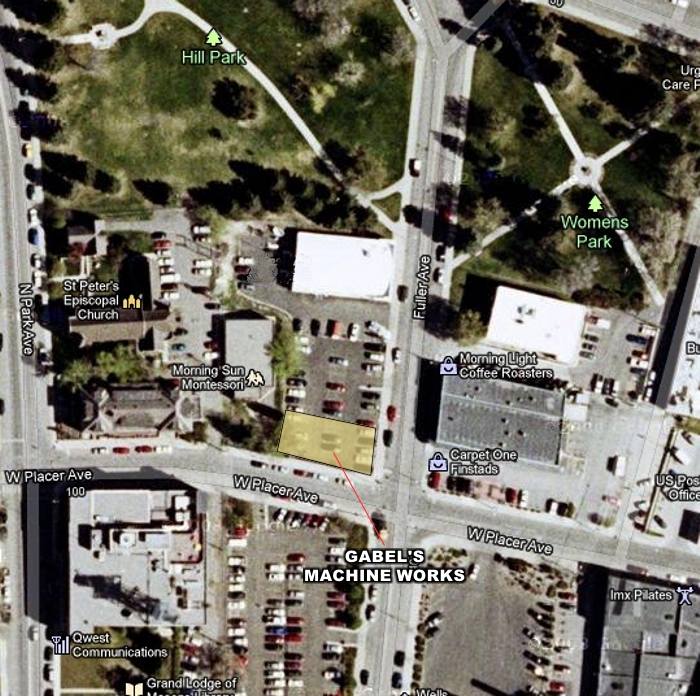 The building at 502 Fuller was originally the home of the John Stedman Foundry, which moved there from Clore Street (now Park Avenue) about 1884. The Stedman Foundry cast the façade for the 1888 "Iron Front" building (Windsor Hotel) at 415 North Last Chance Gulch. The foundry moved west of Helena, to just east of the Kessler Brewery, around 1892. For more about the Stedman Foundry, go here.
I am uncertain when Western Foundry first occupied the Stedman buildings on Fuller.


Interior Views of Gabel's Machine Works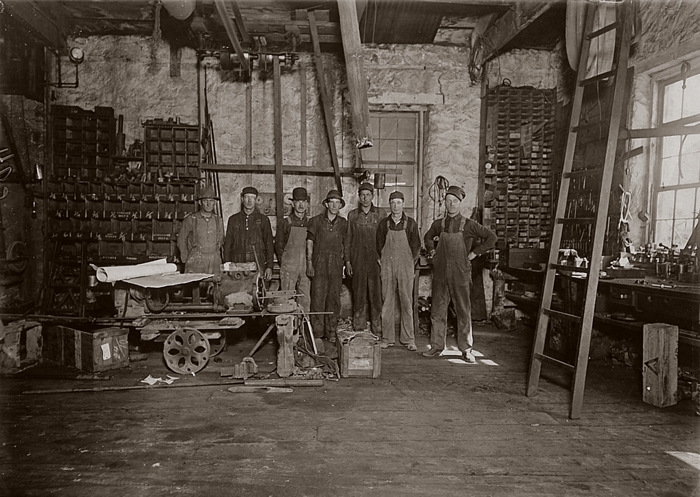 COURTESY OF JUNE VIRAG VIA JAN FUSCO • CLICK ON IMAGE FOR A LARGE VERSION IN A NEW WINDOW
Joseph Gablel on the right; Elmer Wallace (father of June Virag) in the middle.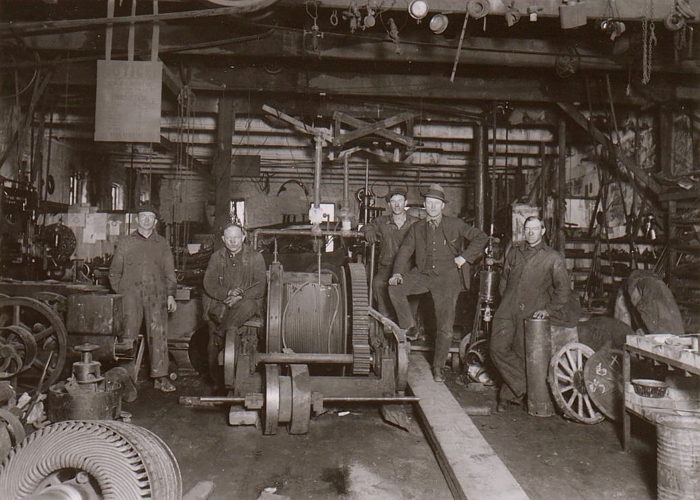 COURTESY OF JAN FUSCO • CLICK ON IMAGE FOR A LARGE VERSION IN A NEW WINDOW

Jan continues:
The other picture is inside Gabel's Machine Works. In that picture, Joseph Gabel, the owner, is wearing the nice derby hat with his hand on his hip. My grandfather, Elmer Wallace, is next to Joe on his left (or third from the right).
I am also sending the front and back from a small note pad they used advertising Gabel's Machine Works.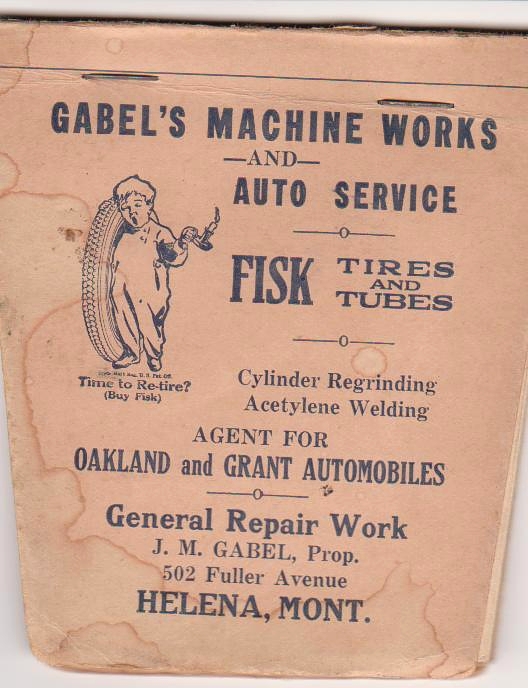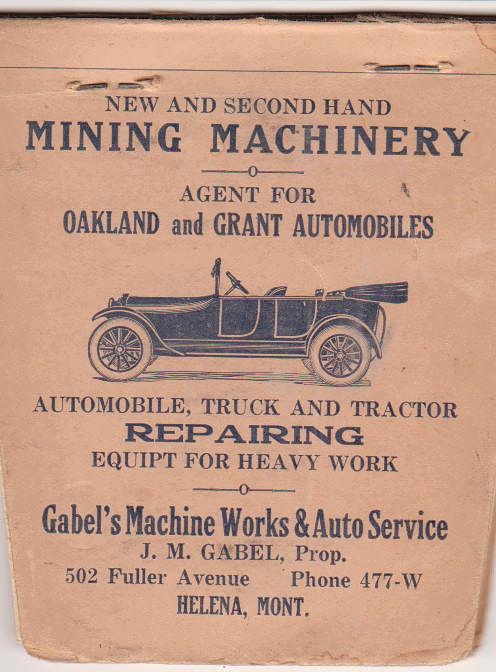 After Joseph Gabel retired in 1945, the building served various functions. In 1951, it was Barney's Auto Repair; in 1956 A. W. Berge Co. Auto Repair. The building was vacant for quite some time before it was pulled down in 1966.
A View of Gabel Machine Works Buildings, 1951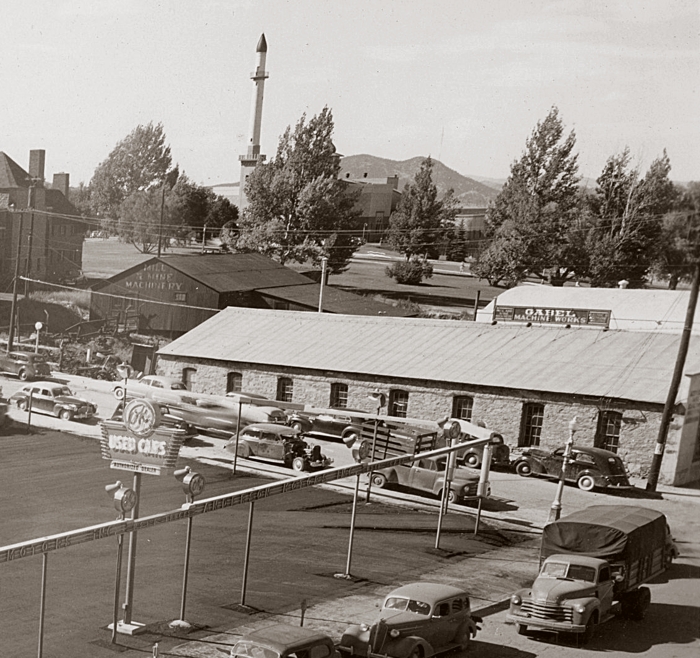 COURTESY OF KATHRYN FEHLIG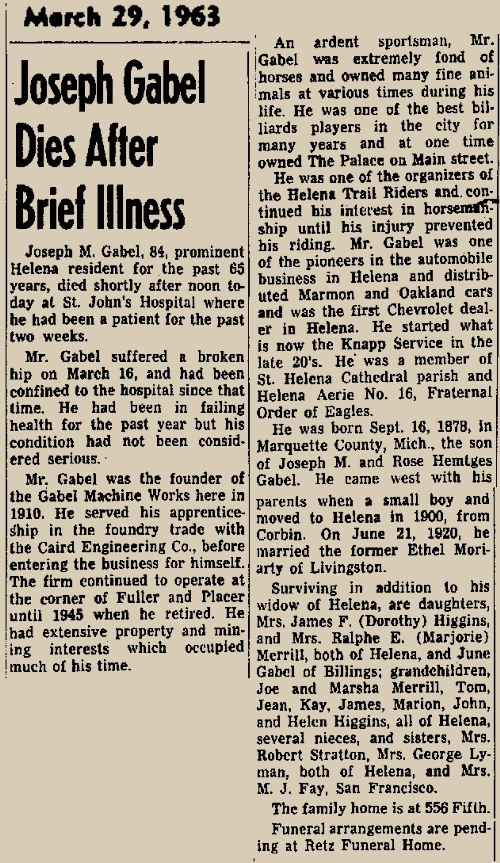 Many thanks to Jan Fusco, June Virag and Loretta Wallace Smith
for sharing their photos and history!