New York Store / Fligelman's / J. M. McDonald Co.

A Downtown Helena Department Store
The New York Store, which later became Fligelman's and the J. M McDonald Co., was founded in Helena in 1885 by Henry Loble, Robert Heller, George Frankfort and Herman Fligelman.

Herman Fligelman
1860-1932
Herman Fligelman was an immigrant to the U. S. from Romania, and made his start in the retail business by peddling notions on the streetcorners of Minneapolis, Minnesota. He soon come west in search of new markets, and with his partner Robert Heller began selling goods in the Helena area. Fligelman worked out of Minneapolis, shipping goods west for Heller to peddle. Henry Loble soon joined the company, moving from Minneapolis to Helena to work with Heller.
After six months of peddling wares in the Helena area, Heller and Loble opened a store on Bridge Street (later State Street), near the intersection of Main and Bridge, adjacent to the Bristol Hotel. This was the end of peddling and the beginning of a solid retail establishment, "H. Loble & Co.". It was then that George Frankfort, an experienced Helena dry goods merchant, joined the company.
H. Loble & Co. was located on Bridge Street, adjacent to the ornate Bristol Hotel (center), beneath the overhead pedestrian walkway....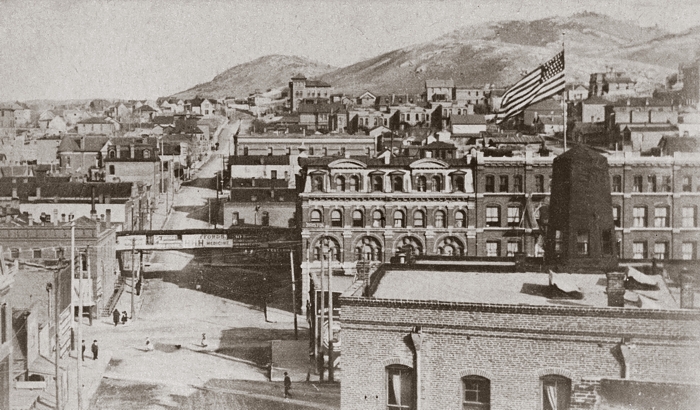 In 1887, Herman Fligelman came to Helena to visit the store; he was then operating out of New York, purchasing and shipping goods to the Helena outlet. In 1891, the New York Dry Goods Company was incorporated, with Fligelman as Presdient.
At that time the new company faced stiff competition from the established firms of Sands Bros., Raleigh and Clark, Brunell &. Co., Fowles and Co., Van Wort's and the I X L Bazzar. Those were prosperous days in Helena, and the New York Dry Goods Co. succeeded by keeping quality high.
The store was at the Bridge St. location from 1885 to 1892, when it moved to newly remodeled quarters on Main street...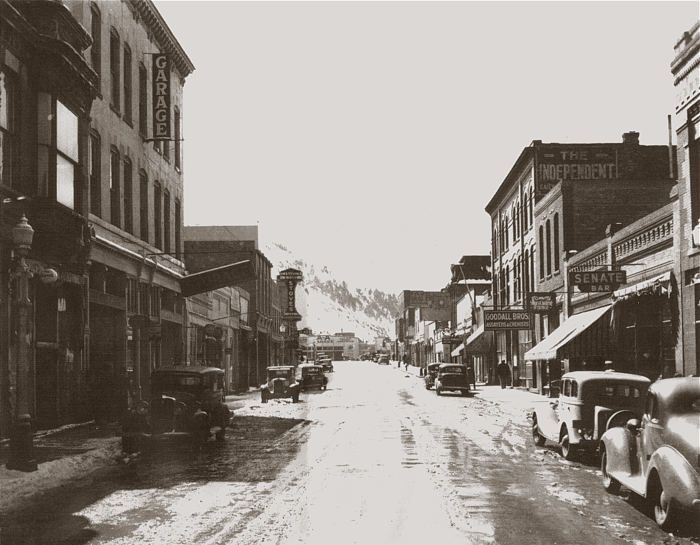 THE WES AND CAROL SYNNESS COLLECTION
The three-story brick building on the right was the home of the New York Store from 1892 to 1902. In the 1930's, when this view was taken, the building housed The Independent newspaper.
In 1902, The New York Store moved north to 46 N. Main Street, into a building constructed for it by the A. M. Holter Co. That lovely store was destroyed by the July 16, 1928 fire...
The New York Store, 46 N. Main, after the 1928 Fire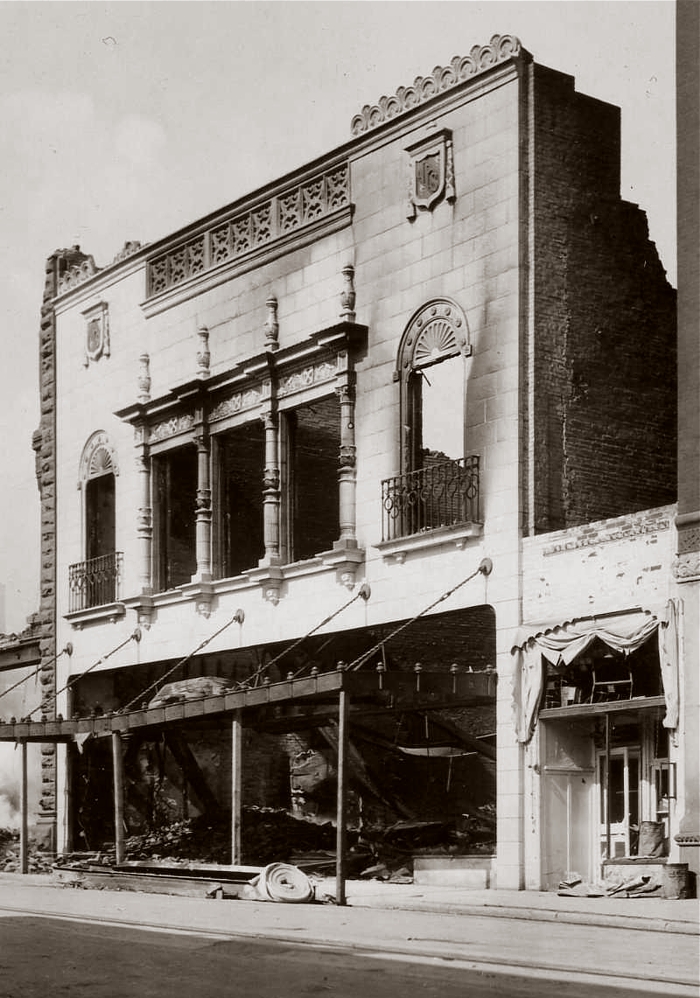 COURTESY OF SEAN LOGAN AND THE HELENA FIRE DEPT. ARCHIVES


Undergoing Demolition

COURTESY OF SEAN LOGAN AND THE HELENA FIRE DEPT. ARCHIVES

Rebuilding the New York Block, 1928-29
The Store Would Reopen as Fligelman's


Construction in Progress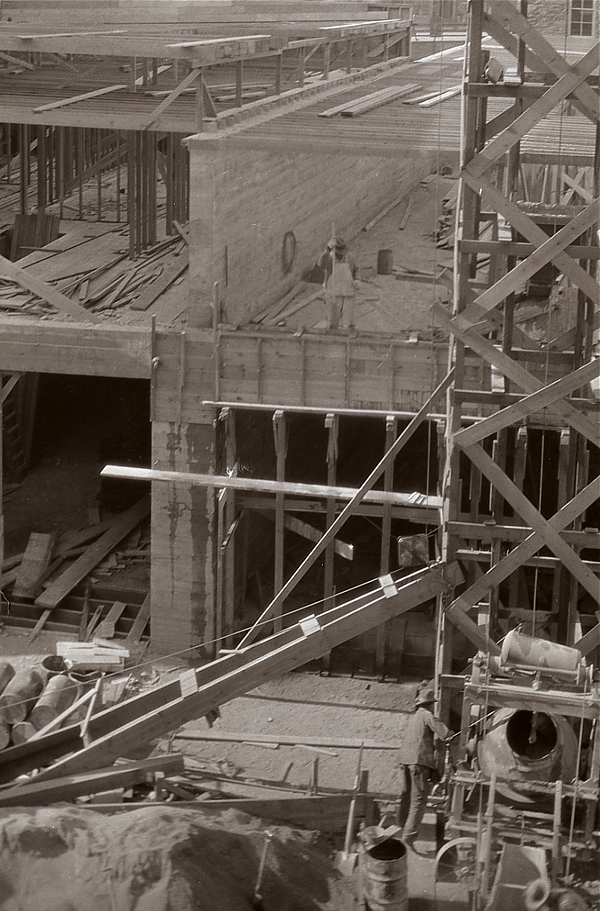 COURTESY OF SEAN LOGAN
Excerpts from July 7, 1929 Special Newspaper Section
Fligelman's Main Sales Floor
Possibly at the Formal Opening, July 8 1929

COURTESY OF THE DAVID POOR COLLECTION • CLICK ON IMAGE TO OPEN A BIG VERSION IN A NEW WINDOW
Fligelman's Officers, 1929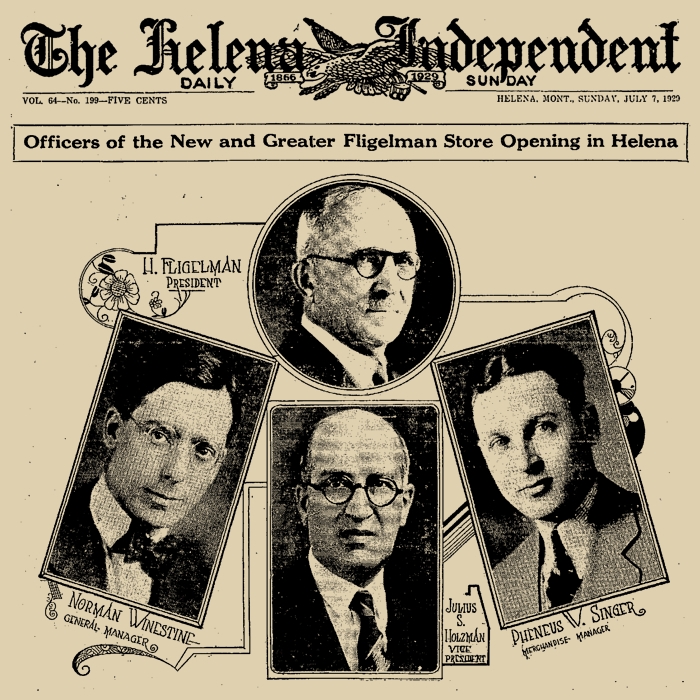 Architectural Details Explained
| | |
| --- | --- |
| | |
| Photo by Terry Bass | Photo by Terry Bass |

Photo by Terry Bass





New York Store and Fligelman's Window Displays, Late 1920s - early 1930s
Photos courtesy of Vince Moravek - Acquired from the estate of Blanche Judge
The first three pictured New York Store displays were likely created by Fred Stark (1882-1962), who worked for Sands Bros. Dry Goods Co. before joining the New York Store. Stark's display work with Sands Bros. earned him two top prizes in the annual nationwide Gossard Corset display contest (1920 & 1921). He also did freelance decorating work for numerous special events in Helena. Mr. Stark was also a musician and entertainer, having a popular blackface vaudeville act in which he played the banjo. According to his newspaper obituary, Stark left Helena in 1927.
The creators of the seven Fligelman's windows shown here were likely Jack Macrel and Gerald Willett.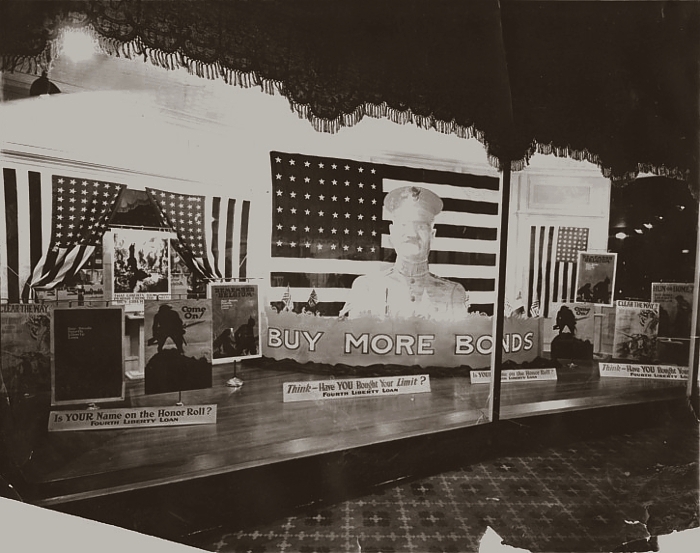 World War I War Bond Window, New York Store
Fourth Liberty Loan - September 1918
Cruise Vacation Window, New York Store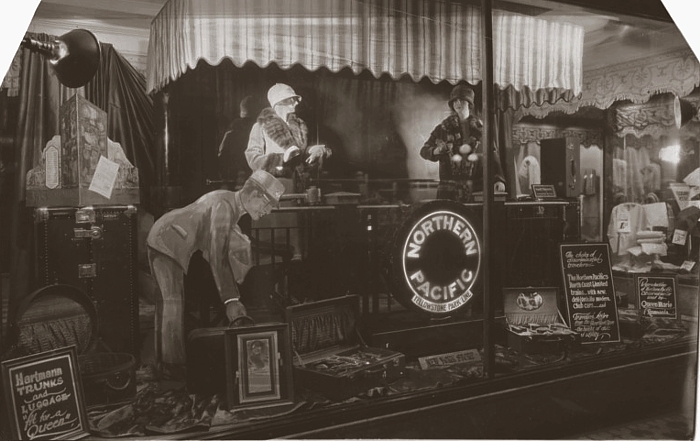 Railway Vacation Window, New York Store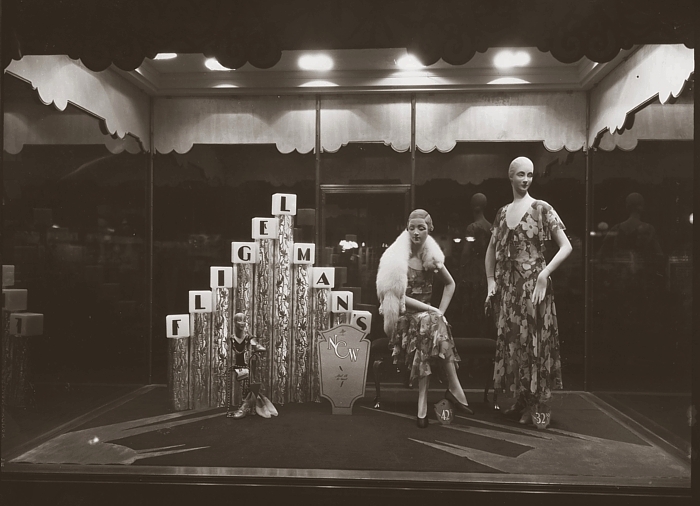 Fligelman's

Hats, Gloves and Purses - Fligelman's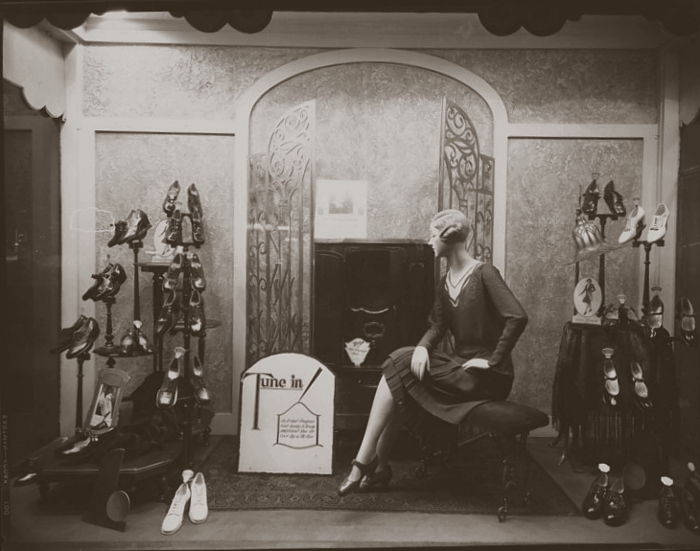 Shoe Window with Radio - Fligelman's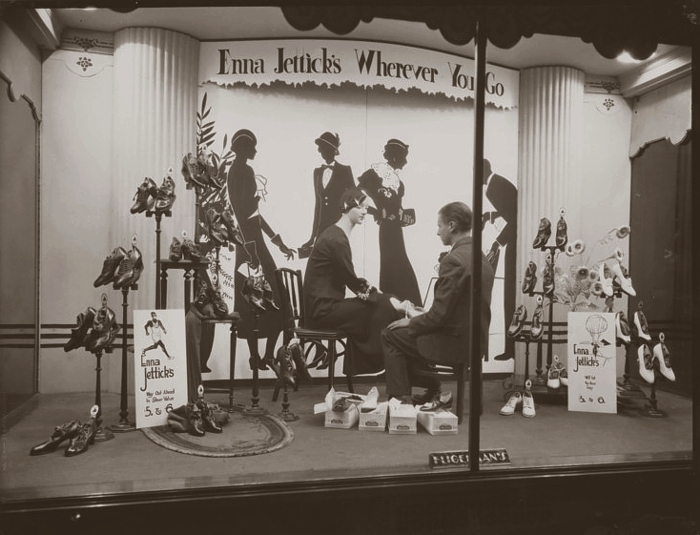 Enna Jetticks Shoe Window, Fligelman's
The man in the window resembles a known photo of display designer Gerald Willett.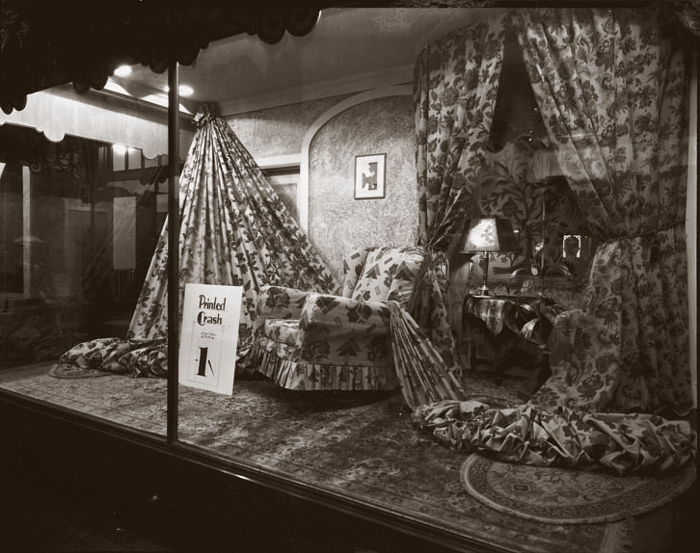 Fabric Sale Window, Fligelman's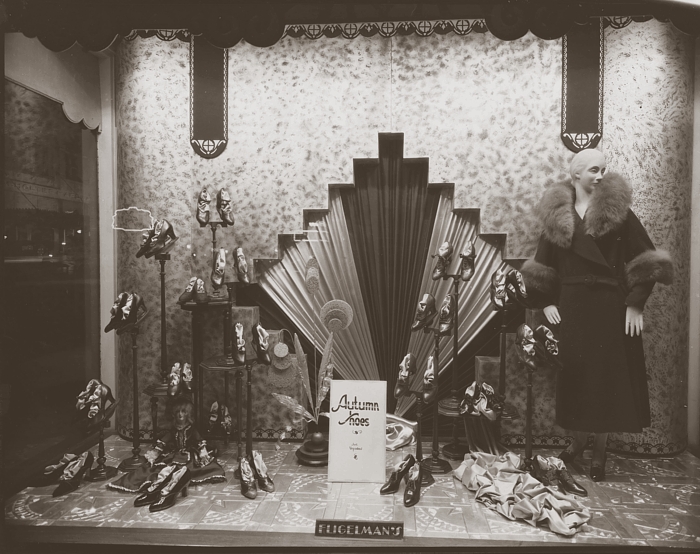 Autumn Shoe Window, Fligelman's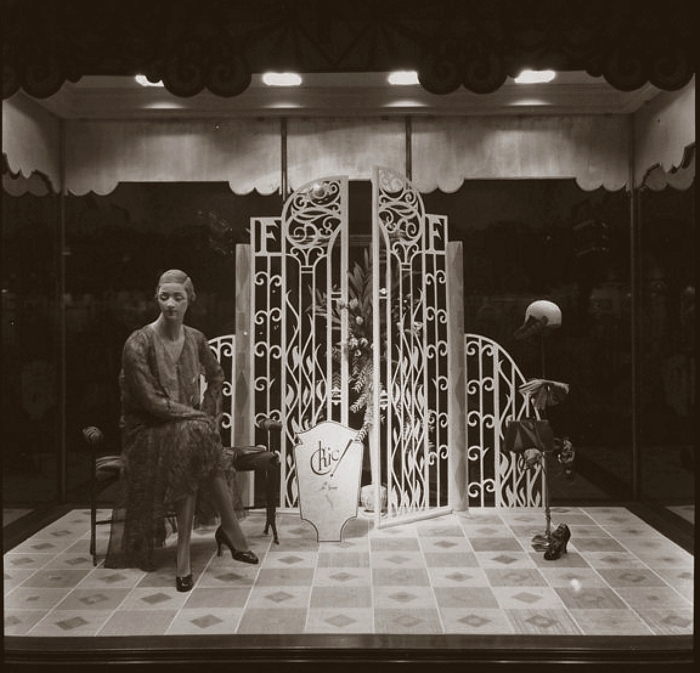 Fligelman's
Helena artists of note worked dressing the windows at Fligelman's / McDonald's. Most prominent is Robert F. Morgan, who worked for Fligelman's, and went on to become Director of the Montana Historical Society, as well as a celebrated western painter.
Noted Montana pastel artist and graphic designer Kathryn Fehlig dressed windows for the J. M. McDonald Co. 1969-1970.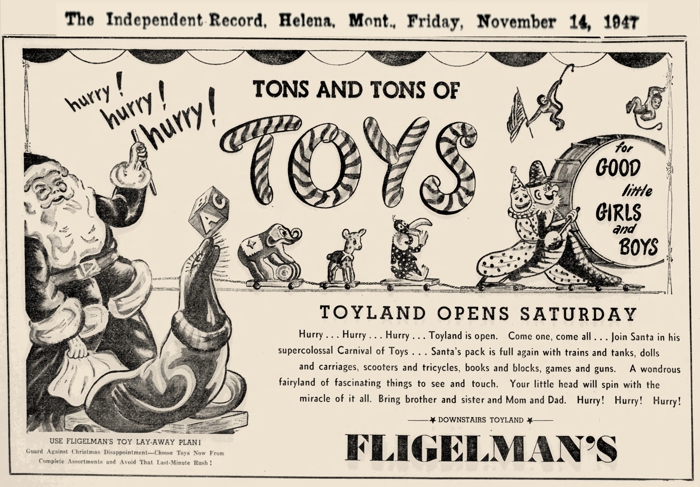 Fligelman's Shipping Label and 1956 City Directory Ad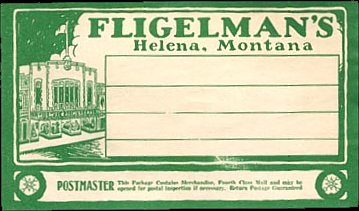 Fligelman's Hat Box and Hats
Belonging to Lillian Slayman



COURTESY OF INEZ SLAYMAN




Fligelman's, 1954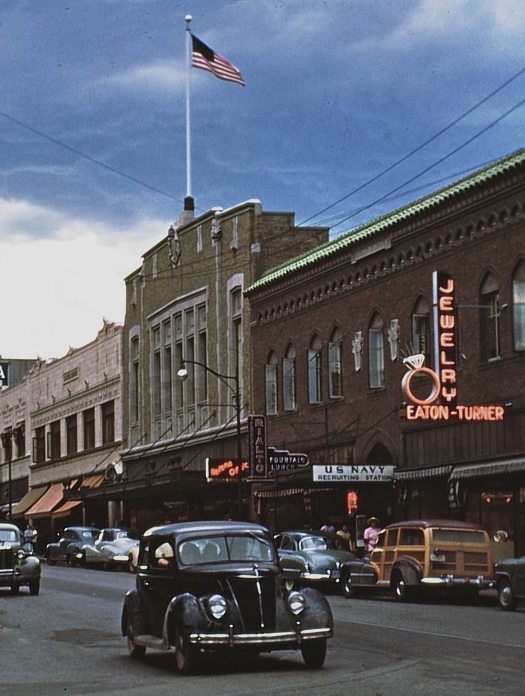 COLLECTION OF KENNON BAIRD


Fligelman's Sold to Nebraska-based J. M. McDonald Company, 1958
1962 Remodeling Added Metal False Front to Building
The J. M. McDonald Co., a chain store operation headquartered in Hastings, Nebraska, had more than 1,700 stores at its peak in the 1950's. The chain went out of business about 1982.
This is the best view I currently have of the J. M. McDonald Co.'s false front. The metal sheathing stayed in place until the summer of 1977, when McDonald's removed it. Resoration of the damaged 1929 façade was completed with a $5,800 historic preservation grant as part of the Urban Renewal pedestrian mall project.
August 1969 McDonald's Newspaper Ad
The S&H Green Stamps Redemption Center was located on the lower level of the store.
J. M. McDonald Co., 1978
After Removal of the False Front

PHOTO BY VIRGIE MILLEGAN BAIRD • COLLECTION OF KENNON BAIRD


Area of the Main Floor, June 2013
As of this writing, August 2013, the New York Building is for sale or lease.
Recent Photo of the New York Block

COURTESY OF TERRY BASS