Goodkind Building
Sixth and Main, Since 1884
Built for Charles A. Broadwater and Shirley C. Ashby, Sr.
Designed by Architect Francis Dickson Lee (1826-1885)
Who Was Also a Developer of Confederate Torpedo
Boats and Spar Torpedos During the Civil War

The Goodkind Building, 1885



COURTESY OF THE DAVID POOR COLLECTION • CLICK ON IMAGE TO OPEN A BIG VERSION IN A NEW WINDOW
The 1884 Goodkind Building still stands on the southeast corner of Sixth and Main. It was designed by St. Louis architect Francis Dickson Lee for Colonel Charles A. Broadwater and Shirley C. Ashby, Sr., and is the oldest standing commercial building north of Broadway. It cost $25,000 (in 1884 dollars) to build. It was occupied for several decades by the Wise & Goodkind / Goodkind Brothers wholesale wine, liquor and cigar business, hence its name today.


Bach, Cory & Co. Wholesale Grocers, 1885

The wholesale grocery firm of Bach, Cory & Co. occupied the new building for about five years. The early tenancy timeline is a bit unclear, but newspaper ads show Wise & Goodkind in the building in 1891. Bach, Cory & Co. were down the street at 314 North Main in 1896. Both concerns may have occupied the building for a time.

Edmund William Bach Obituary
| | |
| --- | --- |
| | David Abner Cory Obituary |
About the Goodkind Business
From Northwest Digital Archives:

Brothers Abraham L. and Edward I. Goodkind, and Meyer and Charles Wise operated a wholesale wine, liquor, and cigar business [Wise & Goodkind} in Helena, Montana, from 1890 or 1891 until 1896 when the Wise brothers left the business.
The Goodkind brothers continued their operation until Edward died on May 11, 1916. Abraham continued the operation with Edward's widow, Margaret L., until 1918. Abraham and Margaret then went into the loan business until 1922, when Margaret moved to Los Angeles.
Subsequently, Arthur Ward joined Goodkind in the loans and securities business. Goodkind moved to Chicago in the 1930s. His business changed to the rental of, primarily, commercial property.
The company's name was Goodkind Estate for at least the years 1950 to 1953, and Goodkind Associates from 1954 to at least 1969. Arthur Ward acted as Goodkind's agent in Helena until 1958. Goodkind Associates rented property in Helena, Billings, Butte, Forsyth, Helena, Miles City, and other towns in Montana.

Goodkind Building, 1890s

COURTESY OF THE DAVID POOR COLLECTION • CLICK ON IMAGE TO OPEN A BIG VERSION IN A NEW WINDOW



Goodkind Building, 1890s -- Detail, Sixth Avenue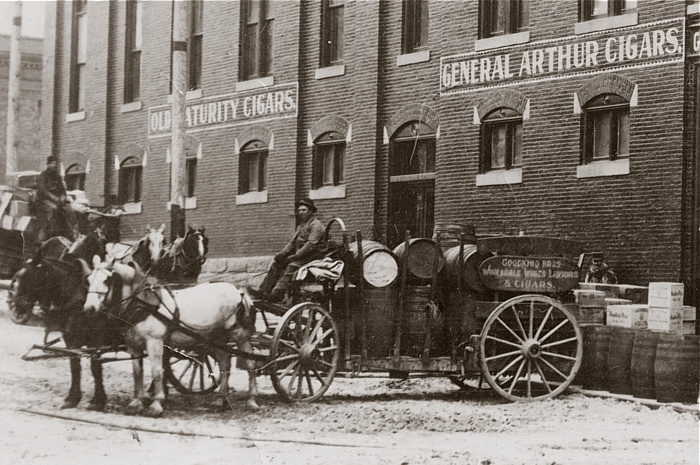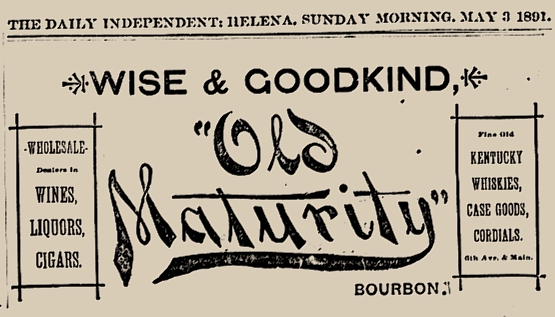 "Old Maturity" Bourbon (and presumably the cigars of the same name) was distributed by Hasterlik Bros., Chicago, Illinois. Goodkind Bros. did quite a bit of cooperative advertising in Helena with the brand.


General Arthur Cigars

In the 19th century, cigar smoking was common, while cigarettes were still comparatively rare. "General Arthur" Cigars, made in New York City, were heavily advertised across the nation, as seen painted on the side of the Goodkind Building in the photo above. Helena has a wonderful "General Arthur" ghost sign still visible today on the east side of 106 Broadway.
Goodkind Building, 1890s -- Detail, Main Street Entrance
Gallon and Half-gallon Goodkind Bros. Stoneware Jugs

COURTESY OF DAVID POOR
Goodkind Bros. / Metropole Whiskey Advertising Shoe Brush


COURTESY OF DAVID POOR
Metropole Whiskey was produced by the Theodore Gier Wine Company of Oakland, California.

Goodkind Bros. Storefront, Early 1900s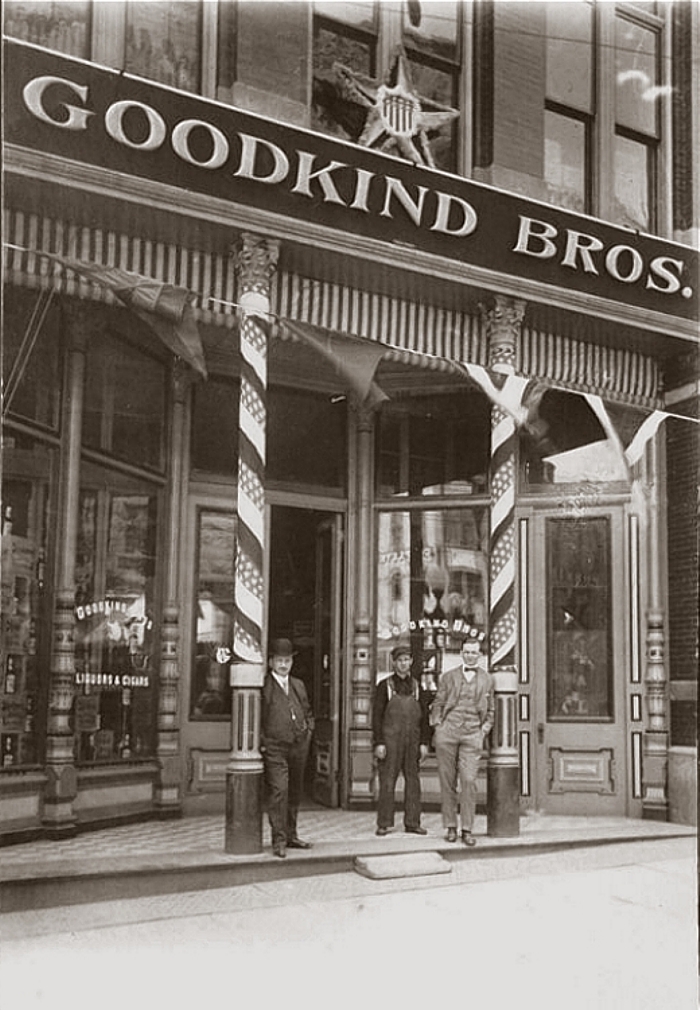 Prohibition Kills Legal Liquor Sales
Following the death of Edward Goodkind in 1916, Abraham continued the operation with Edward's widow, Margaret L., until 1918. The enactment of Alcohol Prohibition (the Volstead Act, 1920) was on the horizon; Abraham and Margaret went into the loan business until 1922, when Margaret moved to Los Angeles. Abraham moved to Chicago in 1924, where he died in 1937...

Gans & Klein Department Store Leases the Goodkind Building, 1920
Moves from Main at Broadway • Goodkind Storefront Modernized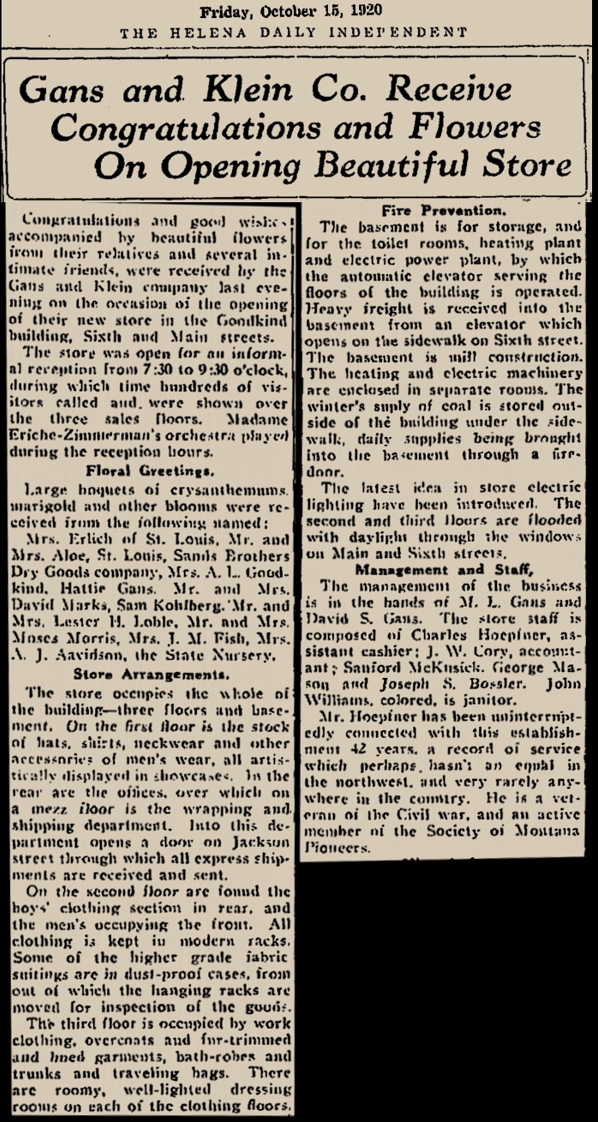 Gans & Klein Bankrupt, 1926

Montgomery Ward & Co. Leases Goodkind Building, 1928
Photo Taken 1937

COLLECTION OF TED KIRKMEYER, COURTESY OF TOM MULVANEY • CLICK ON IMAGE FOR A BIG VERSION IN A NEW WINDOW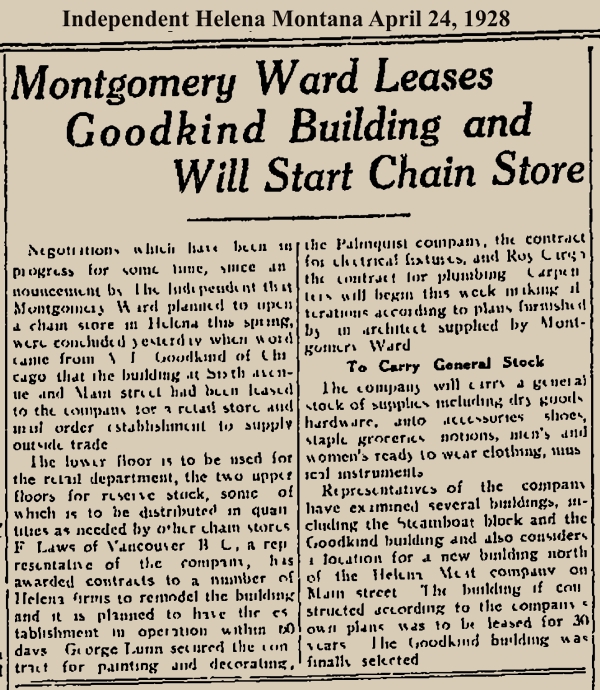 Comparison of Street-level Fenestration, Original 1884 and 1920 Gans & Klein Remodeling
Montgomery Ward & Co. moved from the Goodkind Building in May of 1961, to 335 North Main, in the next block north.

State Nursery & Seed Co. Retail Store, 1964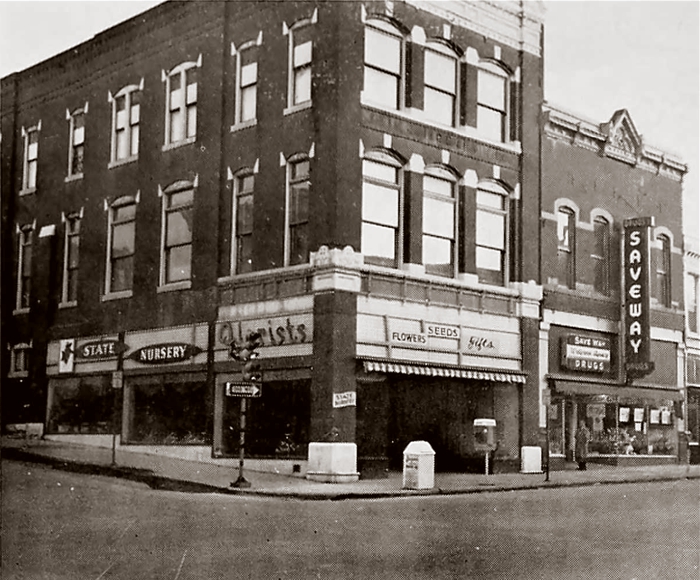 1964 HELENA HIGH SCHOOL VIGILANTE YEARBOOK


Threatened by Urban Renewal, 1970s
In 1971, in the midst of Helena's 'Urban Renewal' program, cutbacks in federal funding for historic preservation caused local officials to consider demolishing the Goodkind Building because, as Urban Renewal Director Jack Greer put it, it had "...no historical significance":
Developer Wanted Goodkind Building Gone
Building Eventually Spared

Cassidy-Grand Interiors, 1974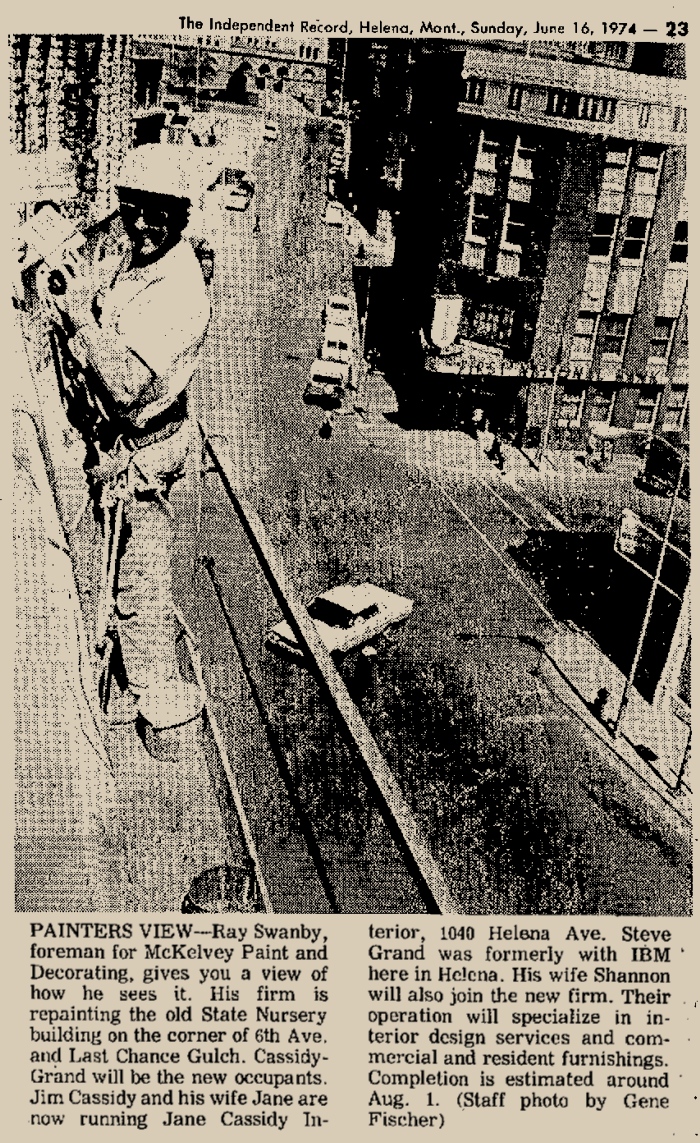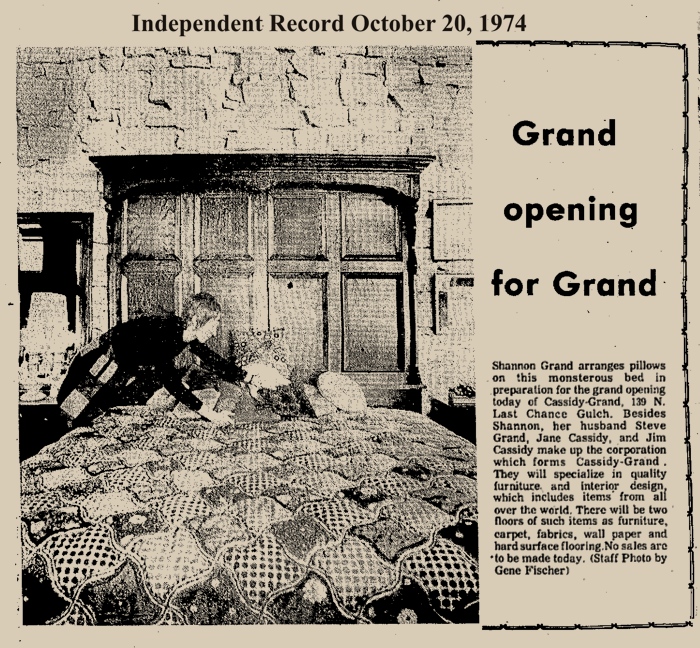 Cassidy-Grand, Inc. operated in the Goodkind Building until at least 1980.
Goodkind Building, 1992

COURTESY OF PETER BROWN, MONTANA STATE HISTORIC PRESERVATION OFFICE
If anyone has more information/photos to share about the Goodkind Bros., Gans & Klein, Montgomery Ward, Cassidy-Grand or subsequent Goodkind tenants, please contact me.