Grand Central Hotel • Eddy Hotel • Harvey Hotel
1880-1967
The Early Days of the Grand Central Hotel, 10 N. Main

FROM THE 1965 LAST CHANCE STAMPEDE PROGRAM • COURTESY OF KITTY ANN QUIGLEY TAALER

In 1913, the Grand Central was bought by James Edmund "Eddy" O'Connell (1886-1972), the founder of Eddy's Bakeries, and renamed the Eddy Hotel. In 1919, it was bought by Harry Fister and William Barworth who renamed it the Harvey Hotel.

The hotel was heavily damaged in a 1927 fire, but was reopened in 1930. Another blaze in 1953 wrought significant damage, and the building finally succumbed to fire in 1967.


Trade Token from the Grand Central Bar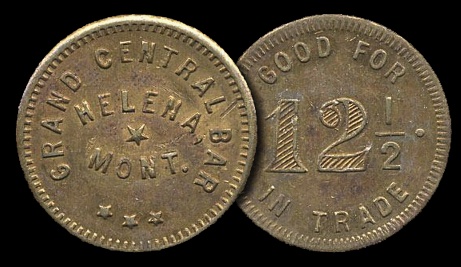 1927 Fire Damage Repaired
Harvey Hotel, 10 N. Main, 1930s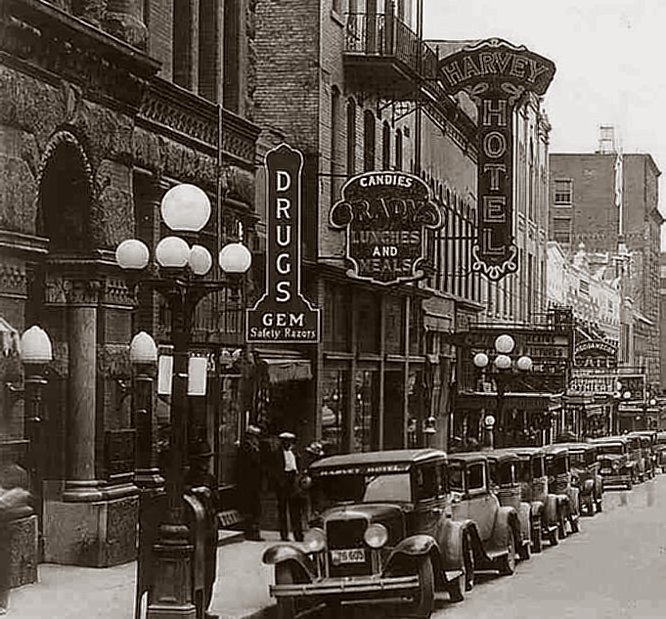 Harvey Hotel, Early 1950s


Passkeys from the Harvey Hotel
COURTESY OF INEZ SLAYMAN, WHO WRITES...
"My mother in law was Lillian Slayman. She was a maid at the Harvey up
until the time it caught fire and burned. I'm pretty sure the pass keys
were hers. My husband's father also was the manager for several years at the hotel.

"My husband is Wally Slayman and he said he was about 6 years old when it burned, so that may have been about 1965 [Feb. 26, 1967]. He used to hang around the hotel sometimes until his mom was done working, and the Woolworth store that was just down the street."
Stationery from the Harvey Hotel


COURTESY OF INEZ SLAYMAN
House rules, from a 1960s In-room Directory

COURTESY OF INEZ SLAYMAN
1953 Blaze
On May 19, 1953, faulty wiring sparked a fire in the basement of the building. It spread rapidly upward inside enclosed walls and framed pillars between the hotel and the cafe annex. About $100,000 damage was done (around $730,000 in today's money), and several Helena firemen were injured. One hotel resident had to be brought out of the building by ladders, over the top of the Eddy Bakery on Edwards St. Adjacent business suffered smoke and water damage.
Final Fire and Demolition, 1967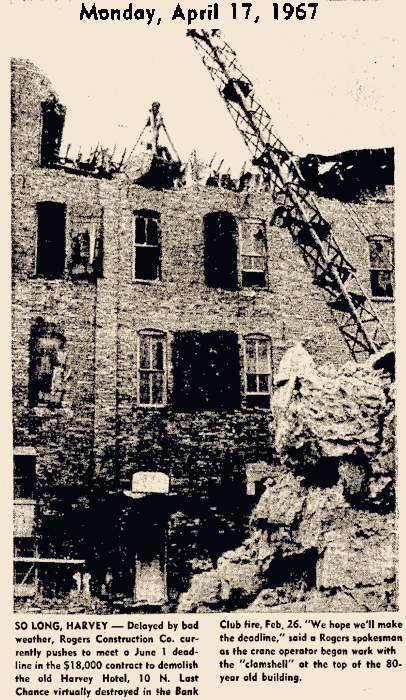 In the early morning hours of Feb. 26, 1967, a muffled explosion was heard in the basement of the Bank Club Lounge, which was housed in a two-story building just north of the Harvey Hotel. A fire erupted, raced upward, and destroyed the Bank Club building along with several adjacent businesses. The Harvey Hotel was heavily damaged by heat and smoke, and the decision was made to demolish it.