Kozy Motel • 836 North Jackson
Also the Capital Potato Chip and Pot o' Gold Noodle Factories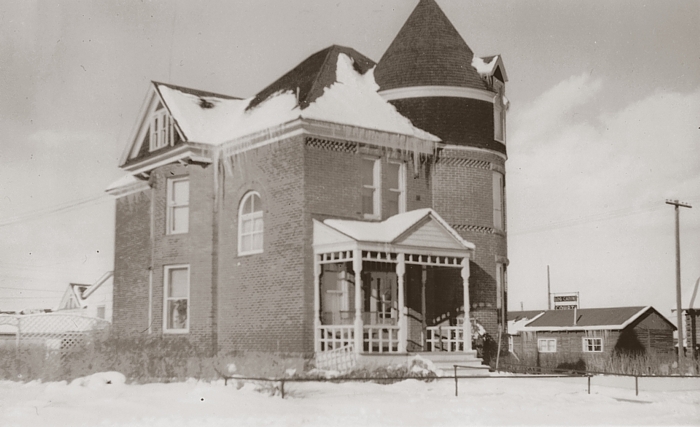 ALL PHOTOS COURTESY OF CLINT VINCENT, UNLESS OTHERWISE NOTED
Helena native Clint Vincent tells about his enterprising step-grandfather, Howard Greer:
"Howard Greer, my step grandfather, shows up as the owner [of the 1880 home at 836 N. Jackson Street] in the 1939-1940 Polk directory. The story that he used to tell was that he arrived in Helena in 1935 on a freight train with a nickel in his pocket. He was a very hard working and dedicated man."
A carpenter by trade, and an avid billiards player for fun, Howard was married to one Madge Greer in 1939, when a City permit was issued to her to remodel the interior of a small building at the rear of their home. This was likely the beginning of the potato chip factory, which was housed in a log building fronting the alley on the west side of the property (see the 1951 fire insurance map below).
By 1942, the Greer's "Capital Potato Chips" were being advertised and sold in local markets, which continued until about 1961. The Greers also made and marketed "Pot o' Gold" noodles from about 1951 until the 1970s.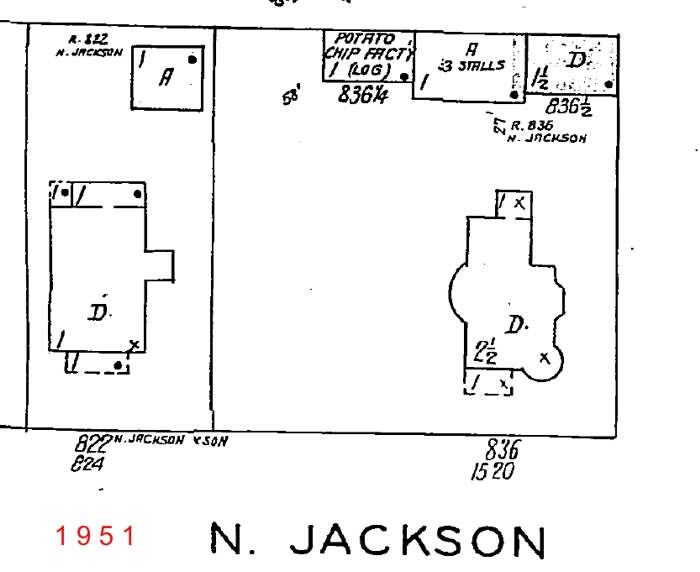 1951 Newspaper Ads for the Greer's Products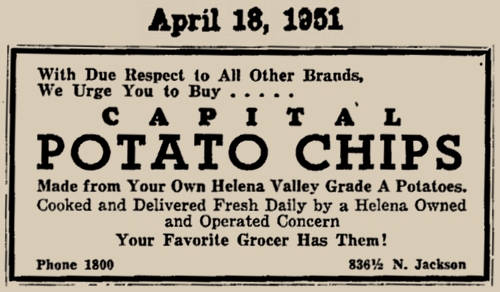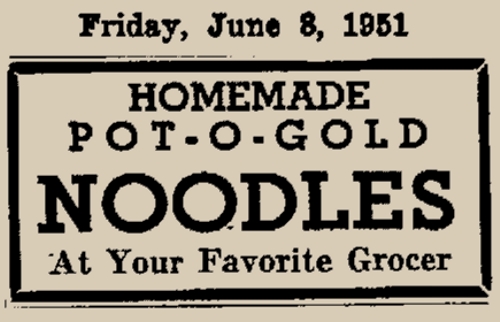 Kozy Motel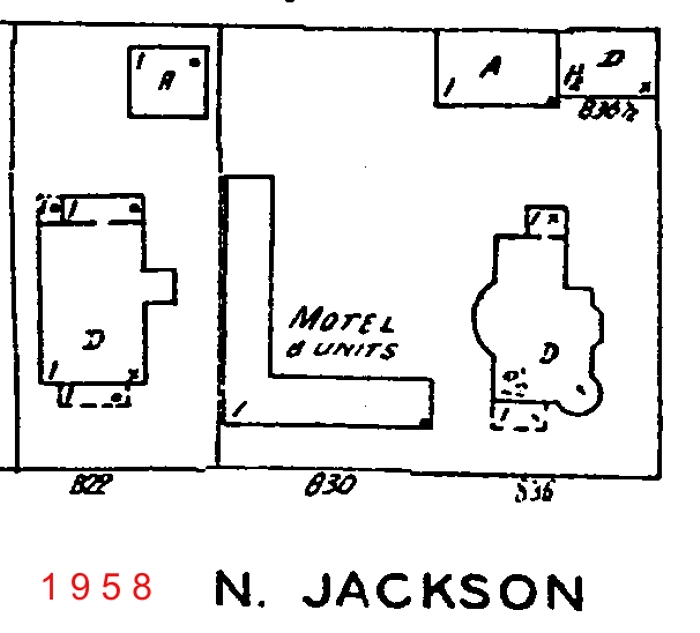 Independent Record newspaper archives show that in October of 1950, Howard Greer obtained City permits to build five "tourist cabins" on his Jackson Street property. Clint Vincent continues...
"There were two complete apartments in the upper floor of the main house which he rented out over the years. By saving the money that he made from the potato chip & noodle business, he started building the rooms for the motel itself. He called these "the cabins". They were built by himself in three stages...to total 13 units by the early 1970s.
Howard married my grandmother, Josie Knapstead, on Sept. 23, 1955. They ran the motel together until Howard passed away April 19, 1975. My grandmother continued to run the motel until she sold in 1978."

Howard and Josie Greer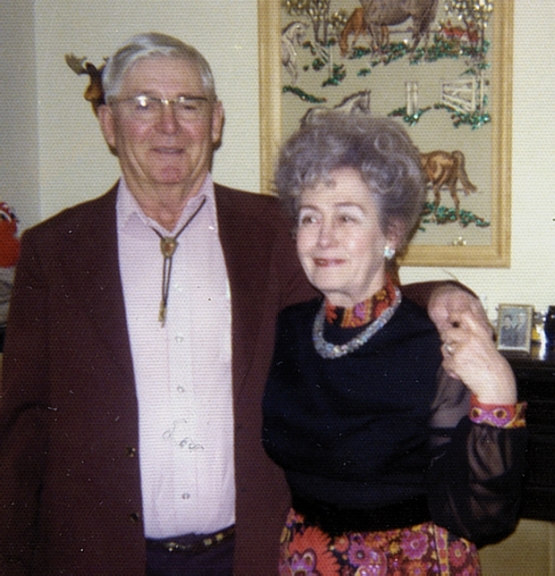 Diagram of the Property by Clint Vincent, 2012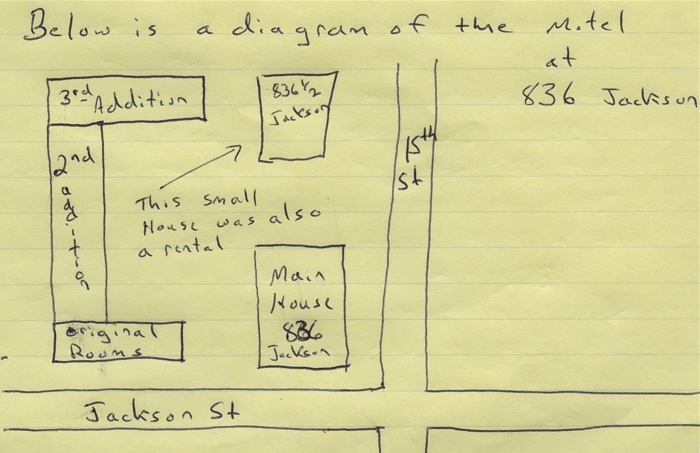 The House and First Cabins, Fronting Jackson St., 2012
First Cabins, 2012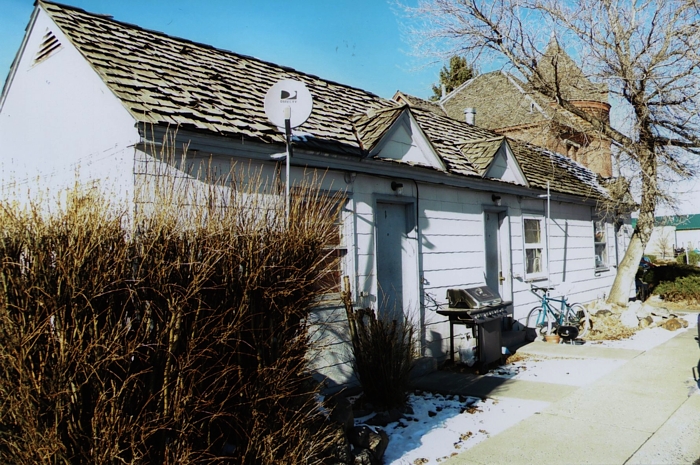 Rear of the First Cabins and Second Addition, 2012


Second and Third Additions, 2012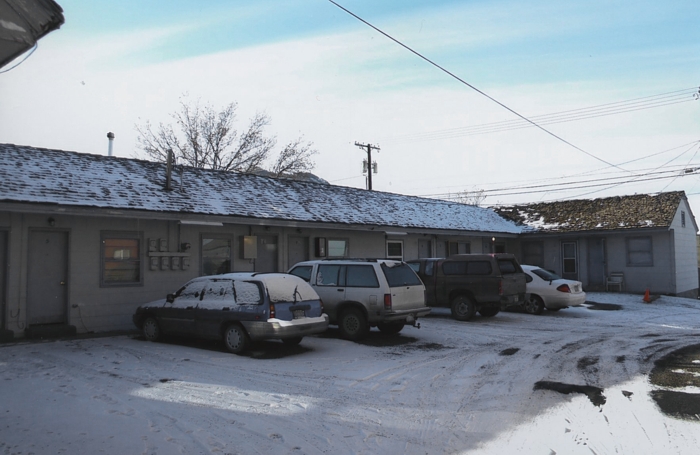 The Small Rental House at 836-1/2 North Jackson, 2012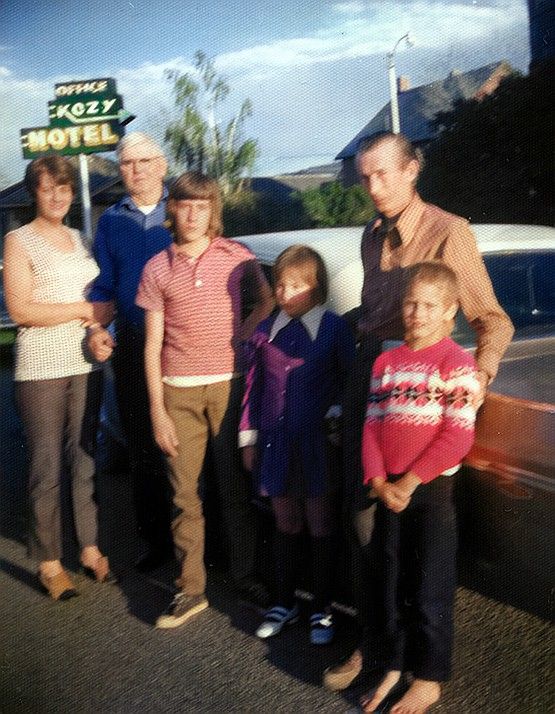 This 1974 snapshot from Clint Vincent shows, from left to right, Clint's mother Bonnie; Howard Greer; Clint Vincent; Clint's sister Christie; Clint's dad, Harry; Clint's brother Andrew. And, of course, the Kozy Motel sign.
Main House Re-roofed, 1980s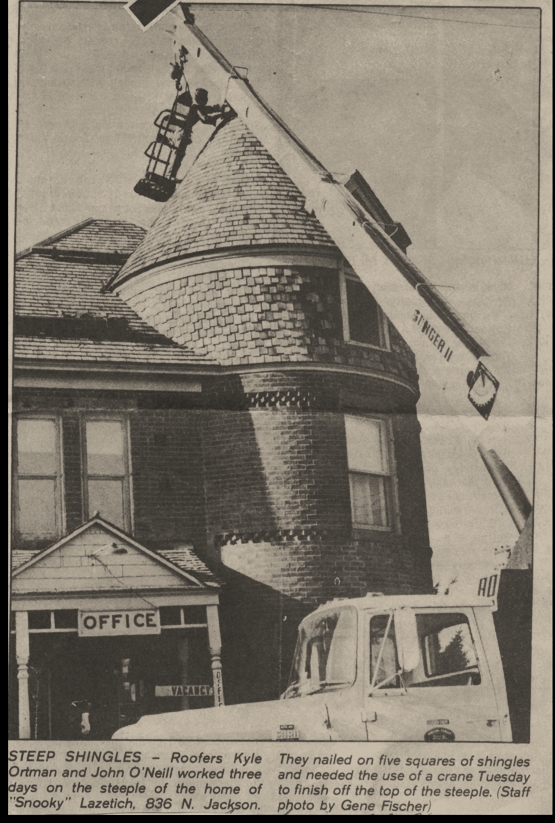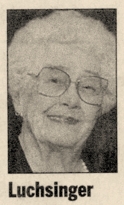 Josie Knapstead Greer Luchsinger (1912-2010), sold the property in 1978 and moved to Minot, North Dakota, where she met and married Orrin Luchsinger. She returned to Helena in 1984, after Orrin's death. Josie was, remembers her grandson Clint, "...a very fascinating woman with an incredible life story. She passed away from leukemia on Sept. 18 2010, just a couple months shy of her 98th birthday. she was crocheting pot holders and making jam the day before she died. She had an uncanny memory and could tell you details of stories from 80 years ago."
Many thanks to Clint Vincent for sharing
this interesting part of Helena's History