St. Paul's Methodist Church
Originally St. Paul's Methodist Episcopal Church • Now St. Paul's United Methodist Church
Thanks to Tim Holmes for Sharing These Photos and Church History

The First Methodist Episcopal Church on Joliet St., 1860s
On March 26 of 1865, the Rev. E. T. McLaughlin, described as a man of about 25 years of age, single, a good singer and of great physical vigor, preached his first sermon from a pile of logs on Joliet St., at the current site of Cutler and Cruse Ave. These logs soon became the first church, a simple large cabin with a membership of eight, dedicated in July, 1865 before the town's first anniversary. Around this nucleus was built a steadily enlarging congregation
St. Paul's Methodist Church is not only the oldest church in the capital city but the third oldest in the entire state of Montana. Helena Methodism has flourished continuously since 1865. Over its history, St. Paul's has spawned several sister churches and institutions throughout the city and surrounds, most of which still function, including Covenant UMC, The Intermountain Children's Home and Rocky Mountain College (Billings).
The original Wesleyan Methodist movement spawned about 40 different branches, which continued to change over time. Some Helena versions, like the German Methodist, reflected language preferences, others, like American Methodist Episcopal (a mostly black church), were basically racial groupings. And the Southern Methodist was a split reflecting the civil war division. The North and South branches rejoined in 1939. Then in 1968 the Methodists joined with the Evangelical United Bretheren (mostly formed of the German Methodists) to become the modern United Methodist Church. I think it's the largest protestant denomination in the US.

In 2015 St. Paul's celebrates its 150th anniversary. It is a church that is always growing and giving and will for many coming generations continue to serve downtown Helena with a reach that extends across the world.


The Former M. E. Church on Joliet St., Brick Veneer, 1940s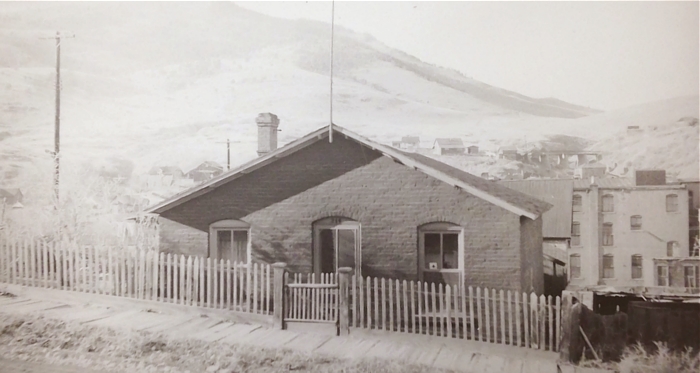 The Former M. E. Church on Joliet St., Brick Veneer, 1965

KENNON BAIRD COLLECTION • CLICK ON IMAGE TO OPEN A BIG VERSION IN A NEW WINDOW
Locations of St. Paul's Methodist Churches Over the Years
Wood Frame M. E. Church, Broadway at Ewing, 1869-1872
Artist's Conception
With a rapidly growing membership, a larger wood frame church was built at Broadway and Ewing. The site was chosen in 1867, the church largely completed at a total cost of about $11,000, and dedicated Nov. 1, 1869. It had a membership at that time of 50, with 110 in Sunday school. This church also had a short history, being destroyed by fire, along with the parsonage and all other church property, on June 19, 1872, during the pastorate of the Rev. J. A. Wan Anda, whose son was suspected to have been playing with matches in the hay loft of the barn.
Brick M. E. Church, Broadway at Ewing, 1872-1888
The congregation then rebuilt a brick structure costing about $8,000 under the pastorate of the Rev. W. C. Shippen in the same location. He owned the property on Blake street on which the famous Hangman's tree of Vigilante days stood. Many people came to see it from morbid curiosity in those days. He had it cut down when he said it was in danger of falling.

This third church served the congregation until 1888, when it was torn down to be replaced by a new stone structure with an unusual octagonal sanctuary, under Rev. A. D. Raleigh, who was a native of Cincinnati, Ohio, and who modeled it after the St. Paul's church of that city
St. Paul's M. E. Church, Broadway at Ewing, 1888-1935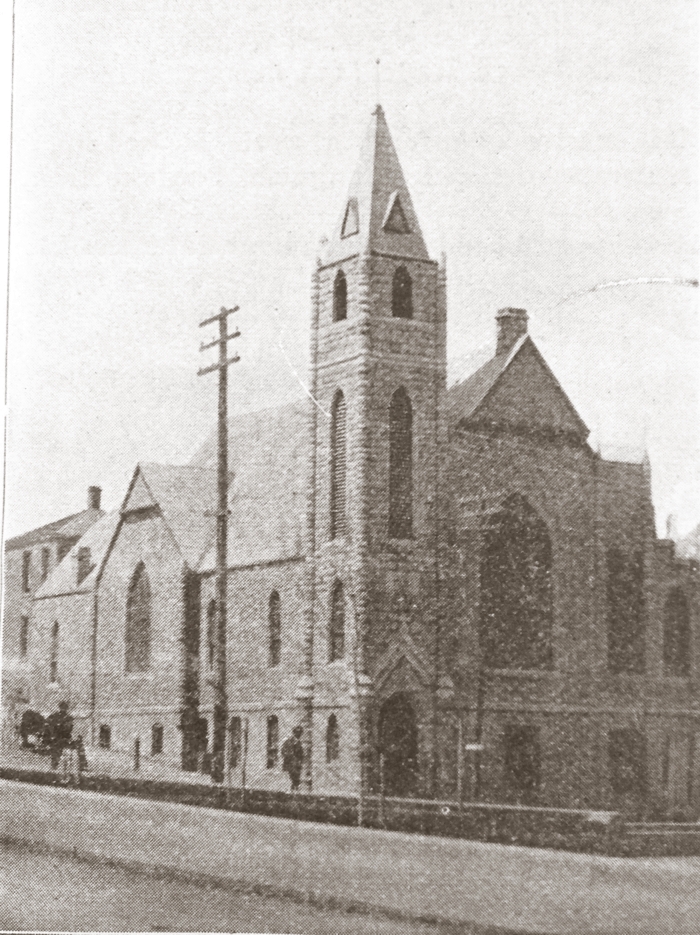 Octagonal Sanctuary

CLICK ON IMAGE TO OPEN A BIG VERSION IN A NEW WINDOW
St. Paul's Methodist Women, ca. 1916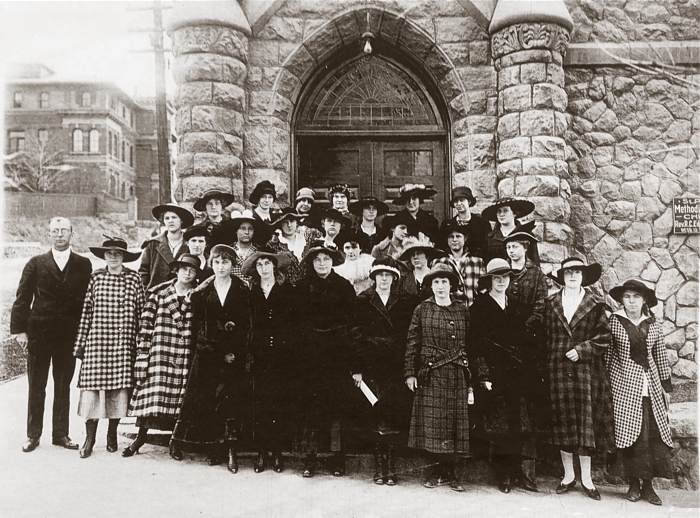 CLICK ON IMAGE TO OPEN A BIG VERSION IN A NEW WINDOW
Prohibitionist Rally, 1915

CLICK ON IMAGE TO OPEN A BIG VERSION IN A NEW WINDOW
A pro-prohibition assembly in front of St. Paul's Methodist Episcopal Church, southwest corner of Broadway and S. Ewing. The occasion was the Montana Epworth League convention, June 1915.
Earthquake Destruction, 1935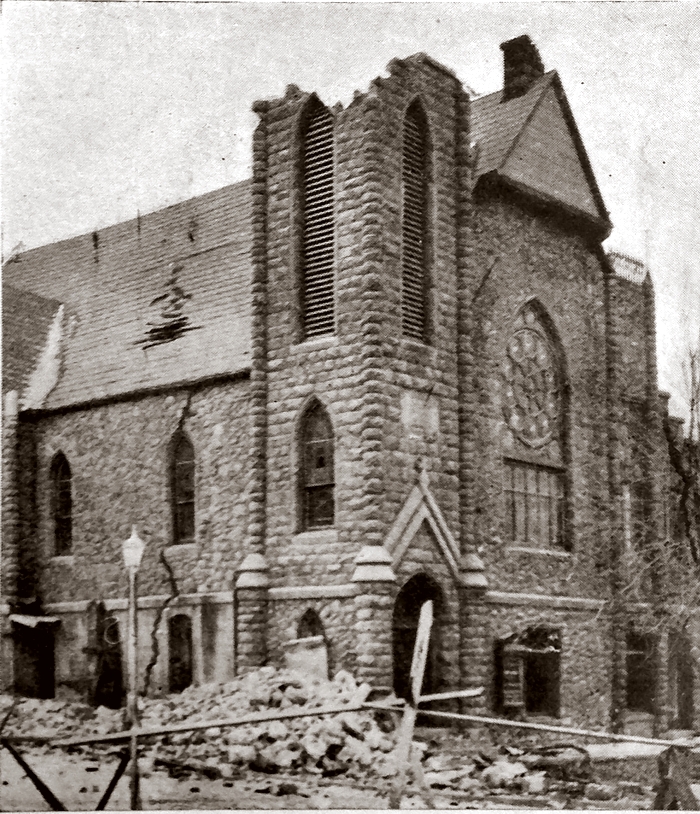 In the fall of 1935 a series of earthquakes destroyed many buildings in Helena, including the stone church. The congregation met for a couple years downtown at the Rio Theater until a new "temporary"church could be constructed. It was relocated at Logan and Lawrence reusing many of the windows and furnishings from the old church, and was dedicated in 1938.
Appeal for Rebuilding Funds
Construction of St. Paul's, 505 Logan St., 1937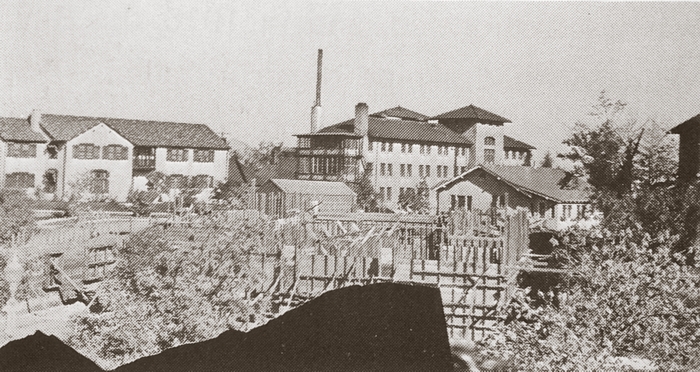 Laying of the Cornerstone, 505 Logan, Oct. 24, 1937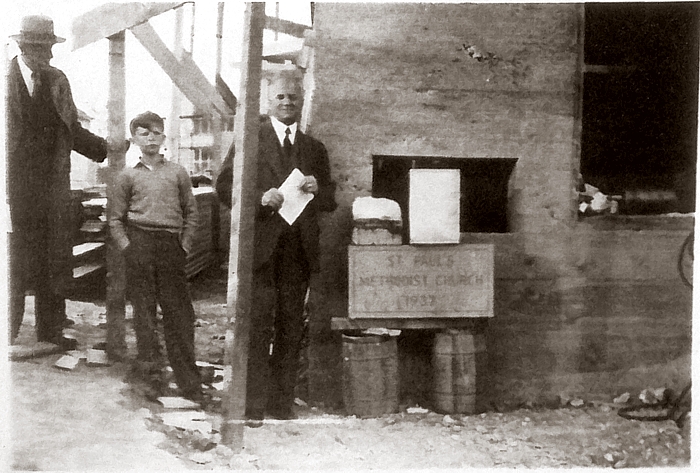 St. Paul's, 505 Logan St., 1940s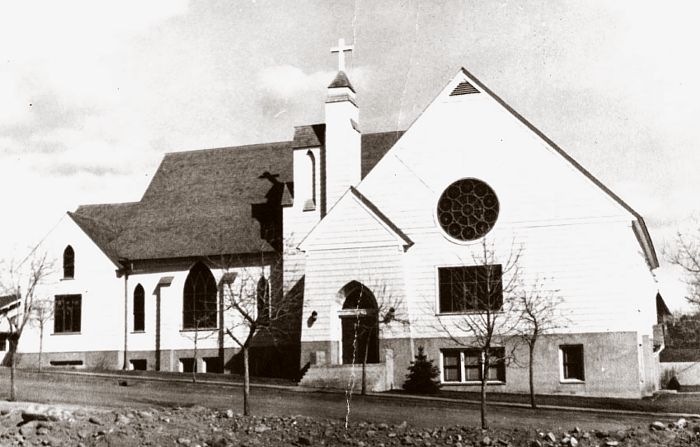 This frame building served for 67 more years, being expanded a few times during the 80's and 90's while the congregation struggled with how to meet the needs of an ever-growing congregation. After years of planning, a new much larger church was designed to be built in two stages. The first stage of the building was completed with much volunteer help from congregation members and entered service in 2005. The long-term dream is eventually expand into the second phase of the building, extending the current building to the east.
Demolition of 1937 Church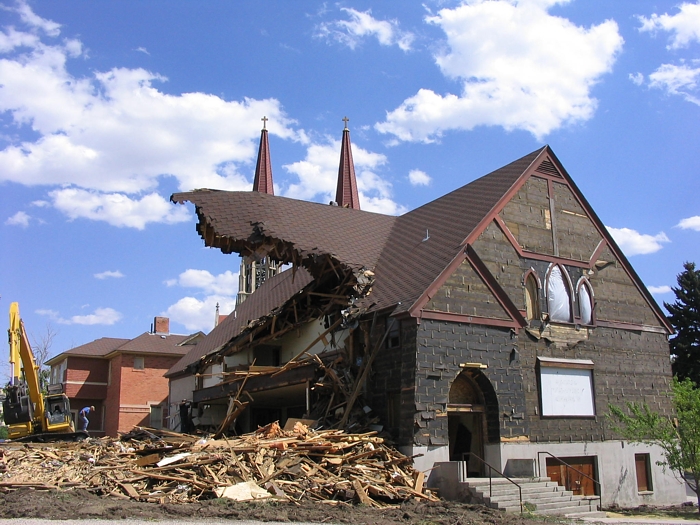 St. Paul's United Methodist Church, 512 Logan. St., 2006