A Brief Helena Telephone History

First Helena Telephone Demonstrations, 1878

Herbert Percy Rolfe
Telephones were first demonstrated in Helena in February of 1878 by Vermont native and Dartmouth graduate Herbert Percy Rolfe (1849-1895). Rolfe was primarily a lawyer by trade, but he was adept at several important professions in early Montana; he was an educator, the surveyor of the townsite of Great Falls, a Fort Benton attorney, President of the Montana Bar, and editor of the Great Falls Leader. He was married to Martha Edgerton Plassmann Rolfe, daughter of the first Territorial Governor, Sidney Edgerton. Rolfe died of typhoid at age 44.
In 1878, Rolfe was the superintendent of Helena schools, and acting as the Montana agent for Bell Telephone. He arranged for a few experimental wires to be strung in Helena, including one between the fire tower and the engine house, and arranged with Western Union to experiment with telephones over their telegraph wires. A line was also strung between Helena and Deer Lodge...

1878 BELL "COFFIN" TELEPHONE


Fire Tower and Engine House Connected Via Telephone, 1878

According to newpaper archives, the telephone connection between the fire tower and the engine house was still in use in November of 1881, but by January of 1882, the fire department had returned to a system of sounding a bell from the fire tower to communicate the locations of fires. Why the phone was abandoned is unknown. Thanks to Sean Logan of the Helena Fire Department for the info and newpaper archive link...



Rocky Mountain Bell Telephone Company
Commercial Telephone Service in Helena Began in the Summer of 1882
Diorama of Helena's First Telephone Exchange, Montana Historical Society, 1950s



COLLECTION OF KENNON BAIRD • CLICK ON IMAGE TO OPEN A BIG VERSION IN A NEW WINDOW
Helena was the second Montana city to have commercial telephone service; Butte was first, hooked up earlier the same year. The first Helena switchboard office was above a saloon on Main Street.
| | |
| --- | --- |
| 1882 MAGNETO WALL SET | A Farmhouse Alternative to the Telephone? |
Second Telephone Switchboard Location
Third Floor of the Securities Building - 1888 to 1897

THE RAY AND PHIL JEZICK COLLECTION, COURTESY OF CHUCK JEZICK

Helena's telephone switchboard was located above Jackson Street, on the third floor of the Securities Building (then the First National Bank), from 1888 to 1897.
Rocky Mountain Bell Telephone Co., 101 N. Jackson St.
Built 1897 ~ Demolished 1973

In 1897, a new telephone building was constructed on the southeast corner of Grand and Jackson, and telephone facilities were moved again. When the exchange was moved to this impressive stone and brick building, there were about 360 subscribers.
By 1904, the phone directory contained 20 pages of Helena listings. Subscribers were instructed in that directory to give one short ring to call the central office. Telephones were still something of a novelty, and the phone book offered some information on how to use them...

"Subscribers are requested to call only by number, and to strictly avoid loud or boisterous conversation. The service is much better by speaking in a natural tone of voice and close to the transmitter."

On the Map...
Grand Street and its Victorian buildings were removed during "Urban Renewal" in the 1970s
Helena Telephone Operators, circa 1900
Sometimes called the "Hello Girls"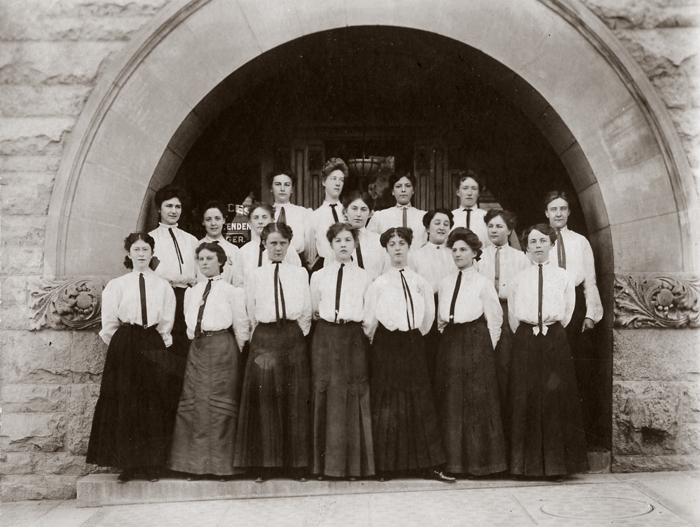 THE RAY AND PHIL JEZICK COLLECTION, COURTESY OF CHUCK JEZICK
CLICK ON IMAGE FOR A BIG VERSION IN A NEW WINDOW

Independent Record Columnist Al Gaskill (1898-1973) Remembered the "Hello Girls"
Rocky Mountain Bell Telephone Co. Building from the South, circa 1917
John E. Barrows, Testboard Employee at the Morse Telegraph, 1930s
COURTESY OF JOHN M. BARROWS • CLICK ON IMAGE TO OPEN A BIG VERSION IN A NEW WINDOW
John M. Barrows writes:
John E. Barrows, testboard employee at the Morse Telegraph message desk at the Jackson Street test room, c. 1930. The telephone company used Morse Telegraph for in-company messages, for testing telephone lines and for monitoring leased telegraph circuits (like Associated Press) for many years. Messages for the downtown office (Colorado Building) were carried by messenger from the telegraph desk.Behind him are dozens of telegraph circuit relays. Morse was finally discontinued in 1959 for telephone business. The telegraph call for Helena was HX.
Jeff Wilson, Sending at a Tape Printer, 1930s

COURTESY OF JOHN M. BARROWS • CLICK ON IMAGE TO OPEN A BIG VERSION IN A NEW WINDOW
John M. Barrows writes:
Jeff Wilson, foreground, and an unidentified Mountain States Telephone & Telegraph Company employee at the Jackson Street Toll Testboard room on the second floor., c. 1930s. Mr. Wilson is sending on a tape-printer and the other employee appears to be working at the testboard, possibly testing wires by Morse telegraph

Two Competing Telephone Companies in Helena, 1910-1914


COURTESY OF TOM MULVANEY
Two telephones are seen in this 1910 view of the dry-cleaning and tailor shop of Miles York. From 1910 to 1914, there were two competing phone companies in Helena, the Rocky Mountain Bell Telephone Company and the Helena Automatic Telephone Company. The exchanges were not integrated, so if you needed to run a business, or just generally keep in touch, you had to have two telephones. It was unsustainable, and Helena Automatic went out of business...
During this period, on June 15, 1911, Rocky Mountain Bell was purchased by Mountain States Telephone and Telegraph.
The Helena Automatic Telephone Company building was located on the southeast corner of Park and Edwards. The building later served as the Foidel Mortuary, the Helena Branch of the Federal Reserve Bank, and the Union Bus Depot; it was demolished by Urban Renewal in 1974.

Helena Automatic Telephone Co. Building

COURTESY OF TOM KILMER
The building is seen here in the 1920s as the Federal Reserve Branch. The top floor was added during the Bank conversion.

Mountain States Telephone & Telegraph Co. Ad for Telephone Operators
1949 Helena High School "Vigilante" Yearbook
Telephone Switchboard, 101 N. Jackson, 1951
Two views courtesy of Colleen McCarthy

Listen to Helena Operators
Connecting Phone Calls, circa 1950

PERHAPS THE ONLY EXISTING RECORDINGS • COURTESY OF CHARLEEN SPALDING
Rocky Mountain Bell's Initial Response to the 1935 Earthquakes
Taken from the June 30, 1976 Independent Record
In October, 1935, Helena experienced a series of violent earthquakes. With the first shock, a company report written at the time said, "...our switchboards were a blaze of lights, as they always are in a time of public anxiety.
"Beginning at 12:50 a.m. on Oct. 12, Helena was startled by a quake lasting 10 or 15 seconds and followed by numerous smaller movements. Ten operators off duty hurried, to the exchange to reinforce the night operators, as they immediately visualized the situation. Traffic progressed at a feverish pace for about two hours."
The account continued with a description of some telephone problems created by the earthquakes.
"On Friday evening, Oct. 18, a longer tremor shook down a number of chimneys throughout the city...Before the series of quakes had ceased, the city was in darkness and many people who didn't rush to the street or drive away in their cars used their telephones.
"The local switchboad was lighted up almost solid and the situation was further complicated by the fact that about 700 receivers had been thrown from the hooks, creating permanent signals that could not be distinguished from those of calling subscribers.
"Emergency service was established immediately for hospitals, police and fire departments. Soon, enough operators had appeared voluntarily to cover both local and toll boards....
"...There were no major failures, although some difficulty was encountered with the central office batteries...and numerous drop wires were torn from shaken buildings and residences. Emergency power equipment was placed in service until the city system was restored..."
Extra operators were called to Helena from other towns as the degree of destruction and volume of calls Increased. The famous Helena earthquakes finally subsided, leavlng residents to assess the damage.
The telephone building suffered only cracks in a flue and in the plaster inside the offIce. The big job at that time was to restore service to the devastated city.
For their actions during the 1935 earthquakes, Helena phone employes received the Vail Medal, an award given only to Bell System people who havc acted with great heroism.
The total number of telephones in use in Helena decreased by more than 100 phones In October of that year to 4,705. Total telephones in use declined to 4,452 during the month following the earthquakes.
The number of telephone company employes also decreased in 1935. Phone company records show that for the next several years, the number of telephones in use and the number of Mountain Bell employes gradually increased.
The war years showed some fluctuation In the number of telephones In Helena, but never the plunging decline experienced during tho period following the earthquakes.

The 1922 Colorado Building, 435 North Main
Built by Mountain States Telephone to House Business Offices
Mountain States Telephone Business Office Employees
Colorado Building, Dec. 23 1944

PHOTO COURTESY OF GREG LOGAN • CLICK ON IMAGE TO OPEN A BIG VERSION IN A NEW WINDOW

From 1922 until 1952, state administrative offices for Mountain States Telephone and Telegraph were housed primarily in the Colorado Building, 435 North Main, but some offices were in Helena's Grandon Hotel, and still others were in Salt Lake City.

Much of the historic Steamboat Block was remodeled in 1951-52 to centralize phone company functions...

Scaffolding on the Steamboat Block During the MST&T Remodeling

COURTESY OF KATHRYN FEHLIG
The company only stayed in the Steamboat Block for a few years; in 1955 a brand-new headquarters on Park Avenue was opened...

Construction of "Dial Telephone Building", 441 N. Park Ave.
Foundation Construction, 1953



COURTESY OF PATTY DEAN


Concrete Work Completed, March 1954


Trenching for Conduits on Lawrence St., Summer of 1954

COLLECTION OF KENNON BAIRD • CLICK ON IMAGE FOR A BIG VIEW IN A NEW WINDOW
Conversion to a Dial System, 1955 (pdf file)
CLICK ON IMAGE TO OPEN PDF FILE
Open House, 1955
Front and Back Covers, 1959 Mountain States Telephone Helena Area Directory

Jackson Street Facility Closed, 1966