The Montana State Capitol
The Rejected 1896 Design, by George R. Mann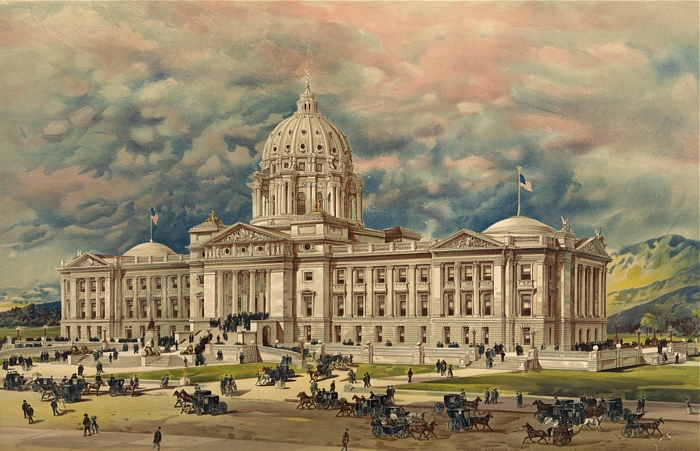 LIBRARY OF CONGRESS
This design was drawn by George R. Mann and was selected by Montana's first Capitol Commission in 1896. In 1897 it was discovered that the Commission was corrupt and was planning to scam hundreds of thousands of dollars from the building project.
Ultimately, the first Commission was disbanded and a second Capitol Commission was convened. The second commission rejected Mann's plans as being too costly, and held a second design competition, selecting a design by Bell and Kent.
Mann's building was therefore never erected in Montana. It was however, later selected as the design, with some modifications, for the Arkansas State Capitol, pictured below.
(Thanks to Mr. Kirby Lambert, Curator of Art at the Montana Historical Society, for this information.)
Arkansas State Capitol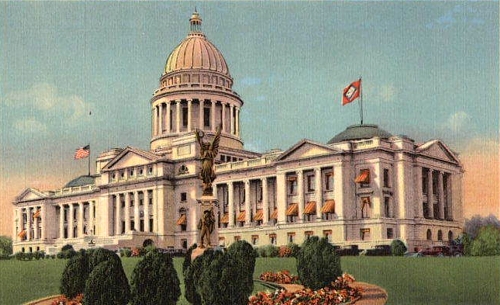 The Bell & Kent Design, Before Dome Modification
An 1898 illustration of the future Capitol by the architectural firm of Charles E. Bell & John H. Kent. The completed dome is different than shown in this illustration. The shape of the dome was changed during construction in 1901.

Mr. Kirby Lambert, Curator of Art at the Montana Historical Society kindly explains about the change in dome design:

Kent originally designed a low spherical dome, a design he considered to be "pure Greek." The capitol commission initially agreed to this design, but after construction was well under way they decided that they wanted a taller, more imposing structure, and they thought that raising the dome would be the most economical way to do this. Kent opposed the changes, but Bell sided with the commission, and we can see who won. This information comes from the Historic Structure Report: Montana State Capitol Building by Jim McDonald, 1981

MANY THANKS TO MR. LAMBERT FOR THIS INFORMATION.

The Capitol Under Construction and When New
Three photos by Stephen Arnold Douglas Hahn (1860-1911)
Courtesy of his great granddaughter, Peggy Flynn
Peggy Flynn writes:
"S. A. D. was an artist, a penman, owner/professor of Helena Business College, and co-designed the Great Seal of Montana. He and his wife, Viola, lived at 1312 8th Ave. Eventually they bought a ranch at Winston and he was killed there by lightning in 1911 when he was fixing fence."
The first two photos were taken from the Hahn home at 1312 8th Avenue.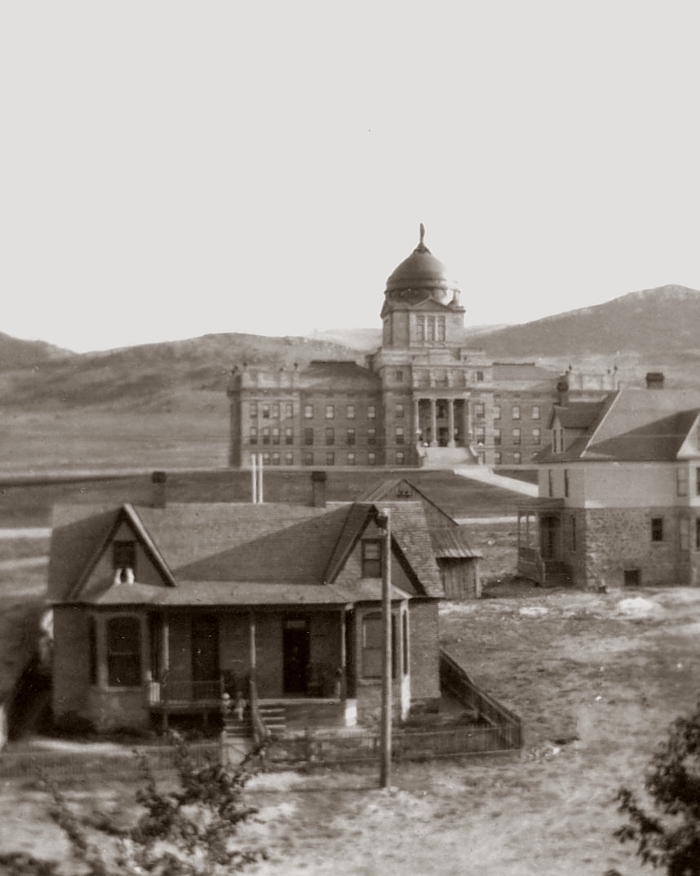 Many thanks to Peggy Flynn for sharing S. A. D. Hahn's unique photos!


Souvenir Button of the Capitol Dedication Ceremonies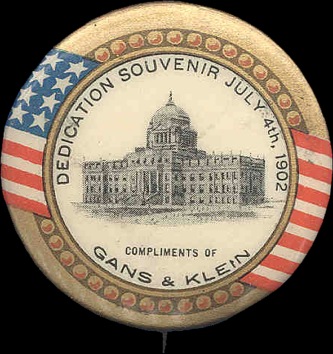 Gans & Klein were pioneer Helena merchants, located on the NE Corner of Main and Broadway.

An Early View of the Capitol Rotunda Stairs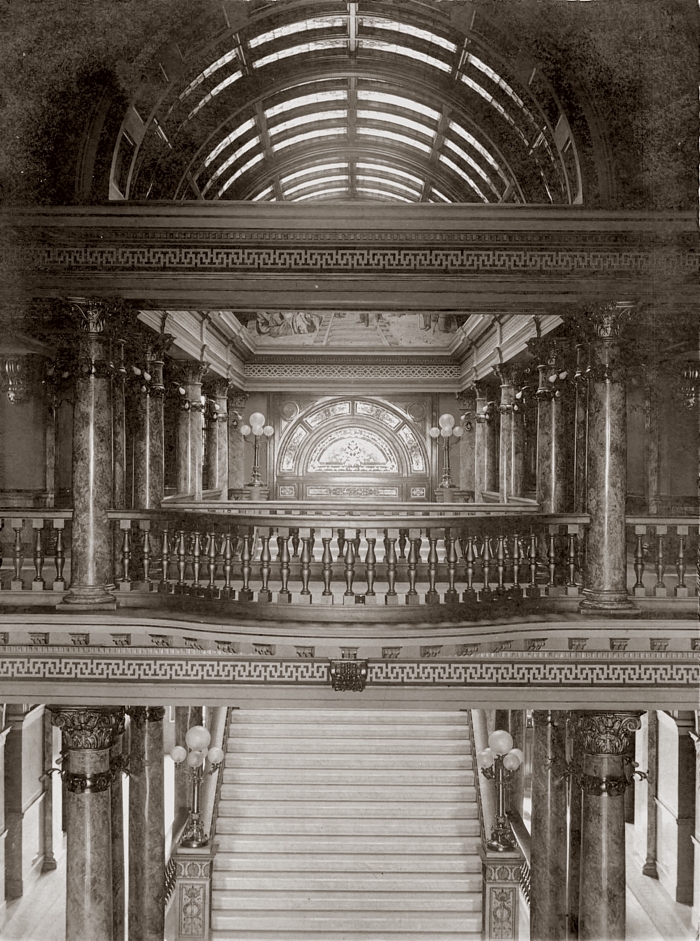 COURTESY OF THE DAVID POOR COLLECTION • CLICK ON IMAGE TO OPEN A BIG VERSION IN A NEW WINDOW



President Theodore Roosevelt at the Capitol, 1903
Souvenir Button Given Out by Helena Department Store Gans & Klein
Manufactured by the Whitehead and Hoag Co., Newark, New Jersey




COURTESY OF CRAIG KIRWIN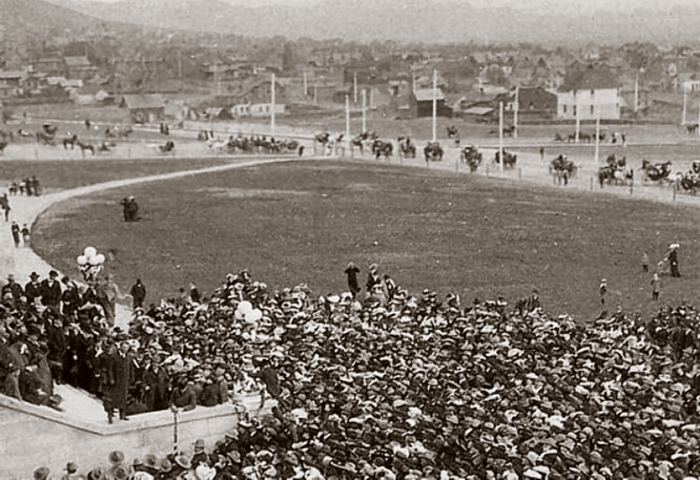 President Theodore Roosevelt (standing atop wall, lower right) speaking from the Capitol steps on the morning of May 27, 1903.
While Roosevelt was speaking from the Capitol steps, a large St. Bernard dog climbed up and stood beside him on the stone coping. Roosevelt's handlers made an attempt to roughly remove the dog, but Roosevelt told them to leave the dog alone.
After his speech, Roosevelt toured the Capitol building and received visitors...

Crowd Gathered to See President Theodore Roosevelt, May 27 1903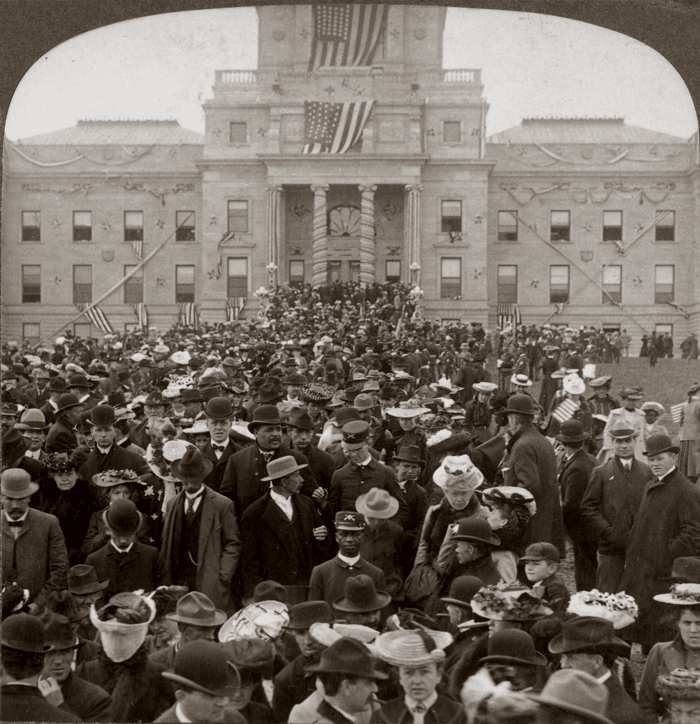 LIBRARY OF CONGRESS • CLICK ON IMAGE TO VIEW A LARGE VERSION IN A NEW WINDOW

Governor's Reception Room in the Capitol, ca. 1915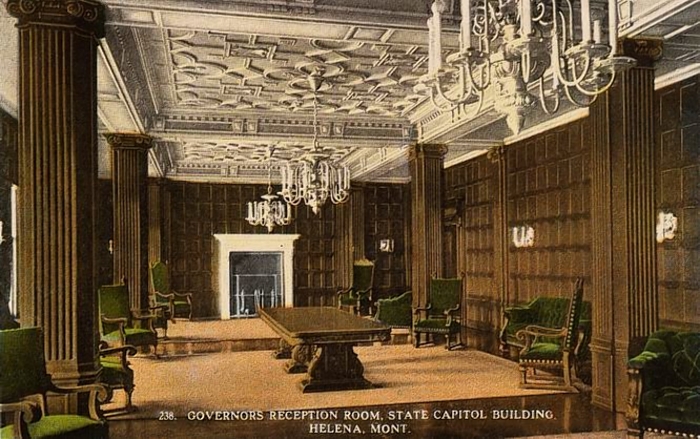 COLLECTION OF KENNON BAIRD

1905 bronze equestrian statue of Thomas Francis Meagher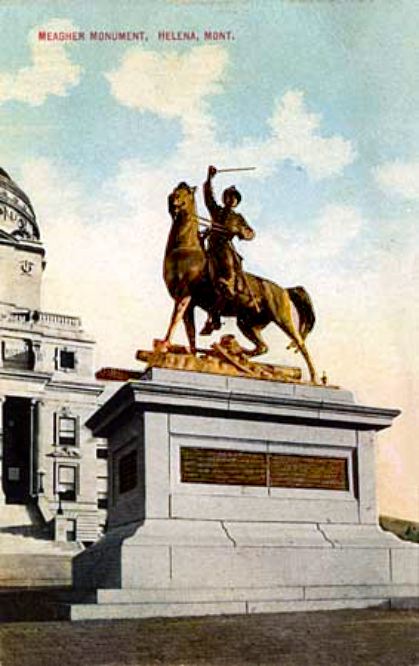 The statue was cast in 1905 by the American Bronze Foundry, Chicago, Illinois.

A native of Ireland, Meagher (1823-1867) was an Irish revolutionary, a Brigadier General in the U. S. Army during the Civil War, and was appointed Secretary of the Territory of Montana in 1865. Soon after arriving in Montana, he was designated Acting Governor. He died in Fort Benton, Montana under suspicious circumstances on July 1, 1867. For more about Meagher, go here.
Dedication of the the Meagher Statue, July 4 1905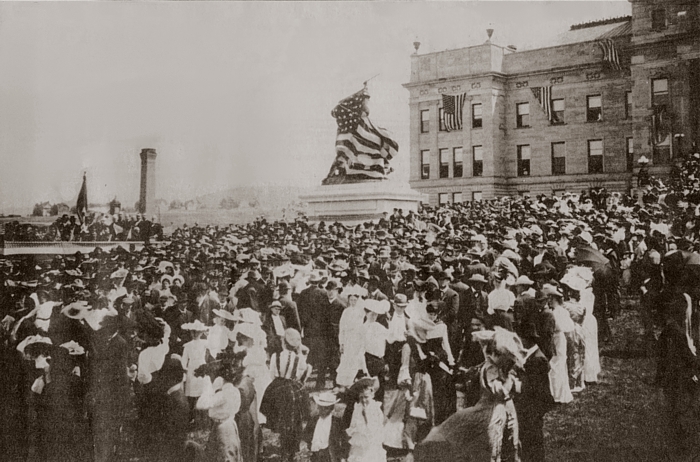 View of the Capitol, About 1906


COURTESY OF THE DAVID POOR COLLECTION • CLICK ON IMAGE TO OPEN A BIG VERSION IN A NEW WINDOW

1913 Aeroplane View of the Capitol Area

FROM "HELENA", A POSTCARD HISTORY, COURTESY OF AUTHOR TOM MULVANEY
CLICK IMAGE ABOVE FOR A BIG VIEW IN A NEW WINDOW

Maypole Pageant on the Capitol Grounds, 1914

PHOTO BY FLORENCE HOLTER • COURTESY OF AUB KIRKLAND
1920 Maypole Pageant




Early Souvenir Merchandise
Who would guess this building was the Montana Capitol? Most souvenir plates of this type were made in Germany.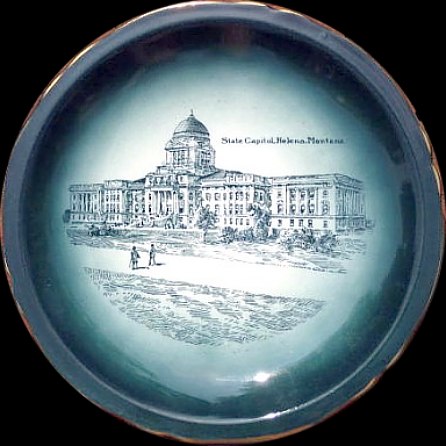 Souvenir plate from Buffalo Pottery (Buffalo, New York) dated 1909. The makers were evidently working from architectural drawings, for construction of the two new wings had only just begin in 1909, and wouldn't be completed as shown until 1912.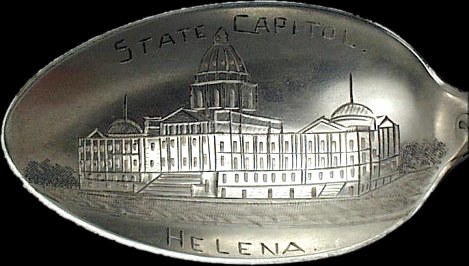 An early souvenir spoon, showing the rejected Mann design.

This cast spoon from about 1910 has - at last - a true depiction of the Capitol.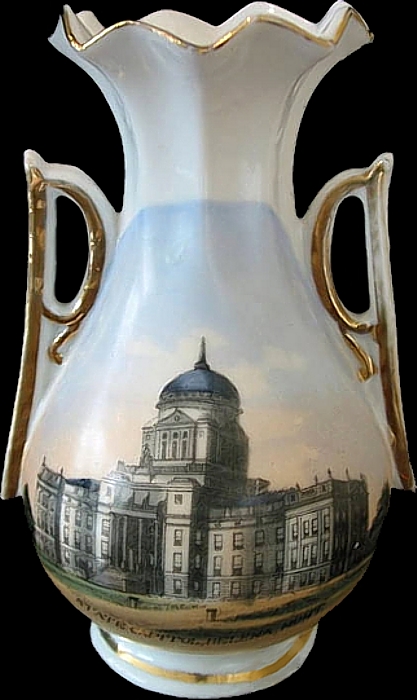 Souvenir Vase, about 1910

Montana State Seal, 1920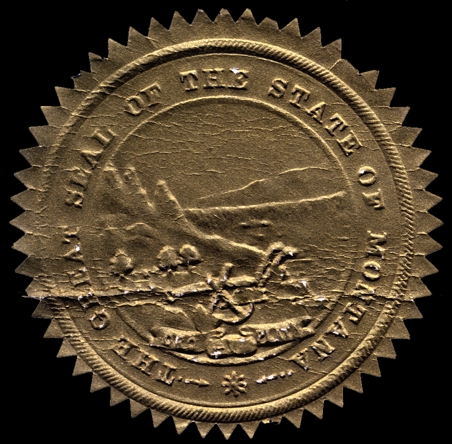 COURTESY OF KITTY ANN QUIGLEY TAALER

Circa 1920 and 1956 Views from Cooke (now Washington) Street

COURTESY OF TOM KILMER

1956...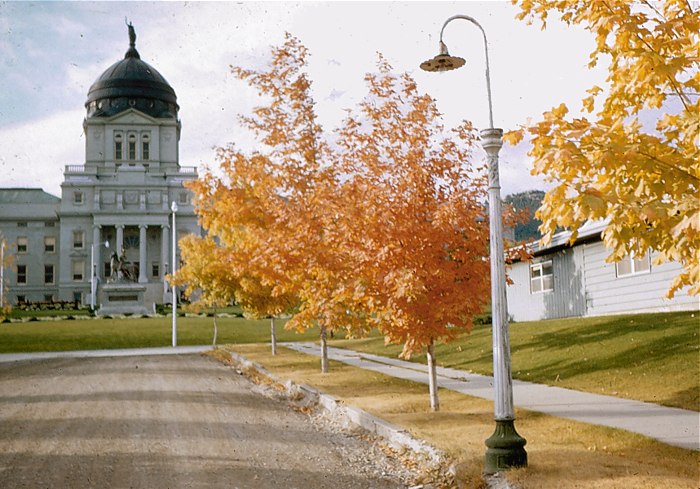 COLLECTION OF BOB & SUSIE LINDEBERG

Tree Damage ~ September 19, 1925 Snowfall
Les Jorud Photos Courtesy of the David Poor Collection
CLICK ON IMAGES TO OPEN BIG VERSIONS IN NEW WINDOWS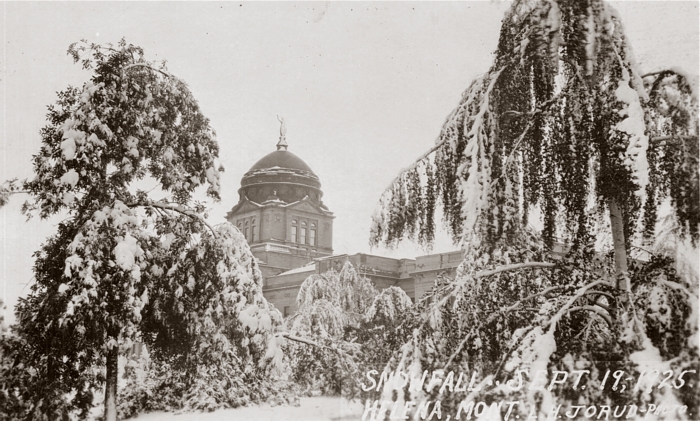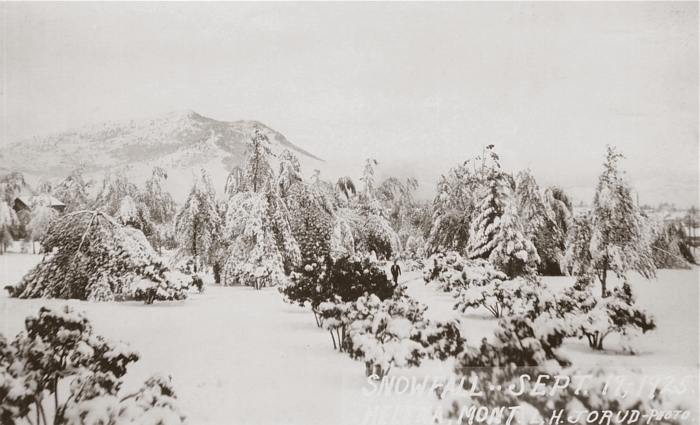 Circa 1928 Aerial View
Looking Northeast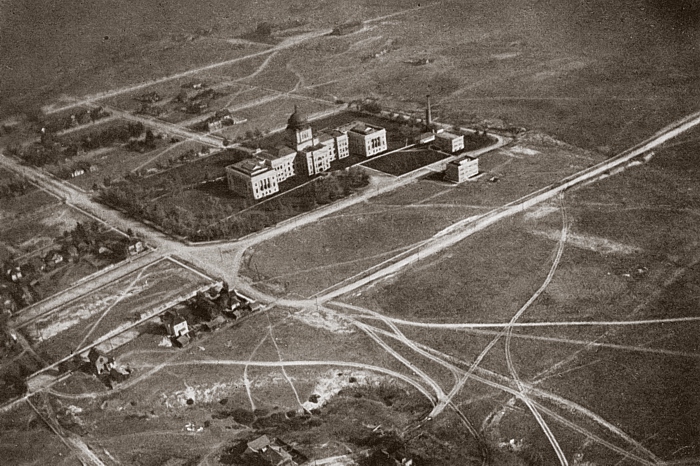 COLLECTION OF KENNON BAIRD

Looking North from the Capitol steps, 1930s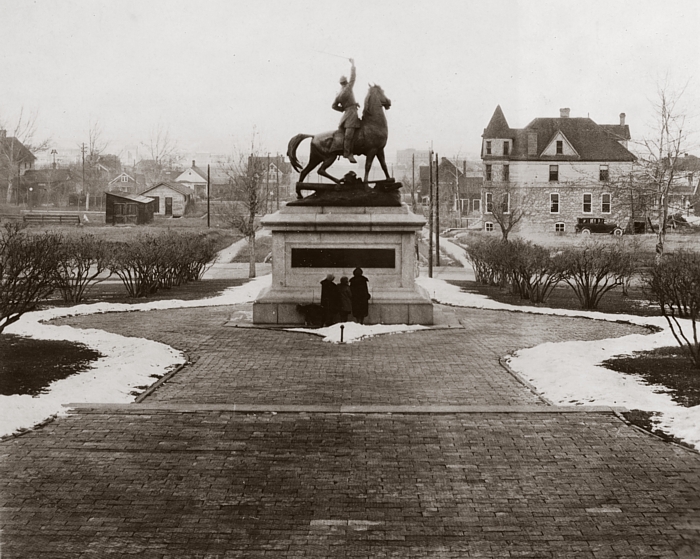 COLLECTION OF KENNON BAIRD

The large Victorian house was 315 Cook St. (315 Washington Dr. after 1932). It was purchased from the A. P. Curtin estate in the early 1930s by R. H. Claflin, who divided it into flats. It was demolished around 1980 (thanks to Patty Dean for the date). For more information about the Cook St. house, scroll down.
The brick paving on the Capitol grounds was removed in 1955. Many of the bricks were re-used at various institutions around the state...


Looking north from the Capitol steps, 1957

COLLECTION OF KENNON BAIRD

The radio antenna in the distance, behind the Cook St. House, was at the studios of KXLJ radio on 11th Ave.
Enlarged view of the Cook St. House
Plus Contributed Information About the House

John Bennitt, now of Blaine, Washington, shares his knowledge of the Cook Street House:
The address was 315 Washington Drive. The Claflin family, which owned a furniture store, sold it about May 1950 to Russell and Nola Bennitt, children of Montana pioneers in Lewistown and Moore, respectively, who moved to Helena after Russell and brother George bought State Publishing Company located at the corner of Jackson and Broadway in one of the city's several former Masonic buildings. The Bennitts sold the house to the state which used it for adjunct offices about Christmas, 1957, to retire in Altadena, Calif. State Publishing was sold to Fred Naegle.
The state's former secretary of education, Dorothy Green, lived on the top floor of the house from about 1951 until she retired, probably about 1955 or 1956. She paid $65 a month rent for the walk-up two-bedroom flat.
Nola Bennitt was a former concert pianist who was an integral part of the Helena Symphony. Ms. Green played violin.
The rocks still surrounding the yard were part of a system of courtyards and a fountain to the north of the house. One of the rocks has shown up in yards from Seattle to Montrose, N.Y., to Gaithersburg, Md., to Denver, Colo. To Semiahmoo, Wash.
Former Sen. Lee Metcalf lived across Eighth Ave. from the house.
Now, how do I know all these things?
I grew up there.
Many thanks, John!


"Crusade for Freedom" Motorcade, 1951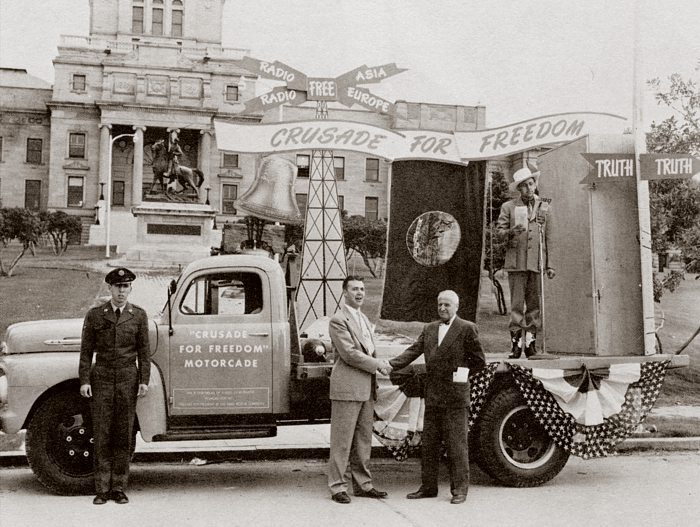 FROM THE AUTOBIOGRAPHY "I'VE MET THEM ALL" BY WALTER H. MARSHALL - NOW OUT OF PRINT
In September of 1951, the Radio Free Europe promotional "Crusade for Freedom Motorcade" came through Helena. The caravan consisted of this flatbed Ford and a Chevrolet car, equipped with public address equipment.
Radio Free Europe broadcasted to Soviet-held Europe, and was also involved in other propaganda activities, including the release in Europe of "Freedom Balloons", helium-filled bags containing anti-Soviet literature which the prevailing winds carried eastward into Soviet territory. Several of these balloons were released in Helena during the Motorcade's visit. One was found a month later in the Spokane Hills by deer hunter Marvin Johns; another was found on the August Ihde ranch, some 100 miles east of Lewistown, MT.
Pictured above, left to right, are Paul Wirick, Jr.; Montana Attorney General (and future U. S. Congressman) Arnold Olsen; Howard Ellsworth, State Crusade for Freedom Chairman; Walter H. Marshall, Coordinator.
The crate on Marshall's left was labeled "Iron Curtain" on the other side, and was likely used to store the display for travel.



The Capitol from the NW, 1957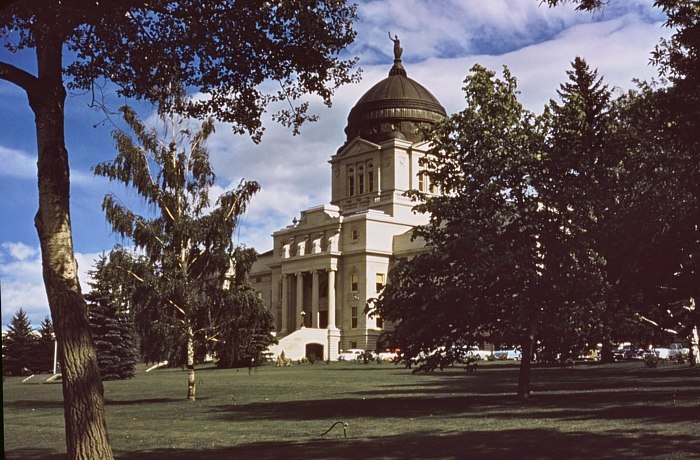 COLLECTION OF KENNON BAIRD

The North Capitol Driveway, from Montana Ave., 1957

COLLECTION OF KENNON BAIRD
The north Capitol driveway, from Montana Ave., 1957





Aerial View of the Capitol Area, Ca. 1958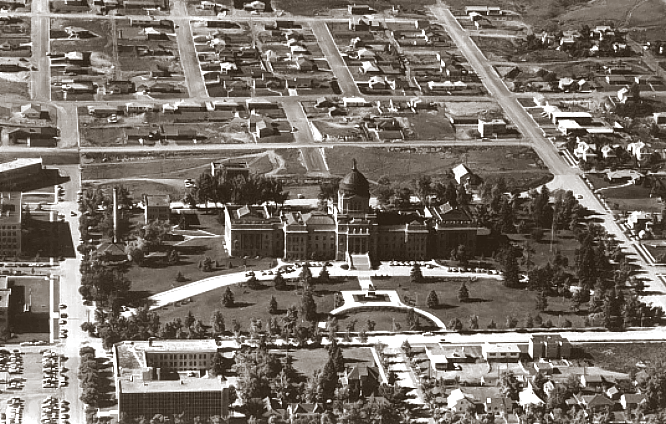 Aerial View of the Capitol Area, Ca. 1965



COURTESY OF BILL CLARKSON • CLICK ON IMAGE FOR A BIG VERSION IN A NEW WINDOW

The Montana Centennial Parade passes the Capitol, May 1964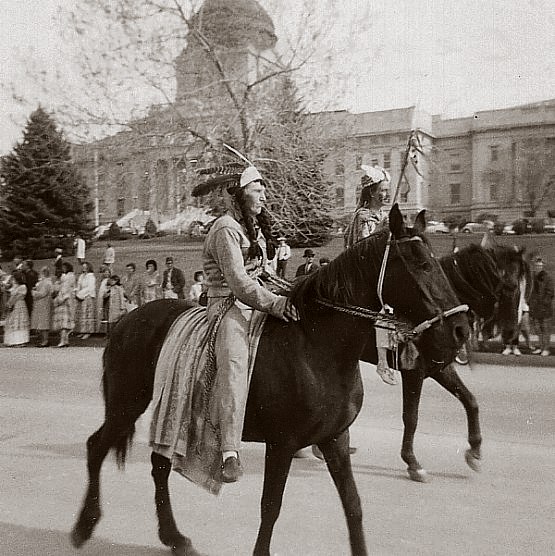 COURTESY OF TOM KILMER



In the Montana House of Representatives chamber, 1970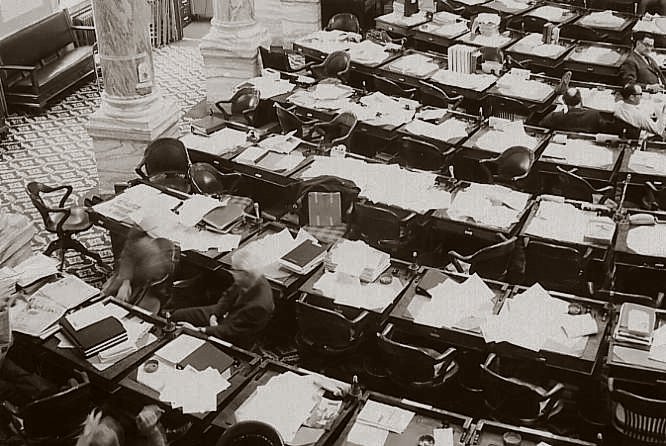 PHOTO BY KENNON BAIRD

Views Inside the Dome, Nov. 13, 2013
Courtesy of Jeffrey Sherlock


CLICK ON IMAGE FOR A BIG VERSION IN A NEW WINDOW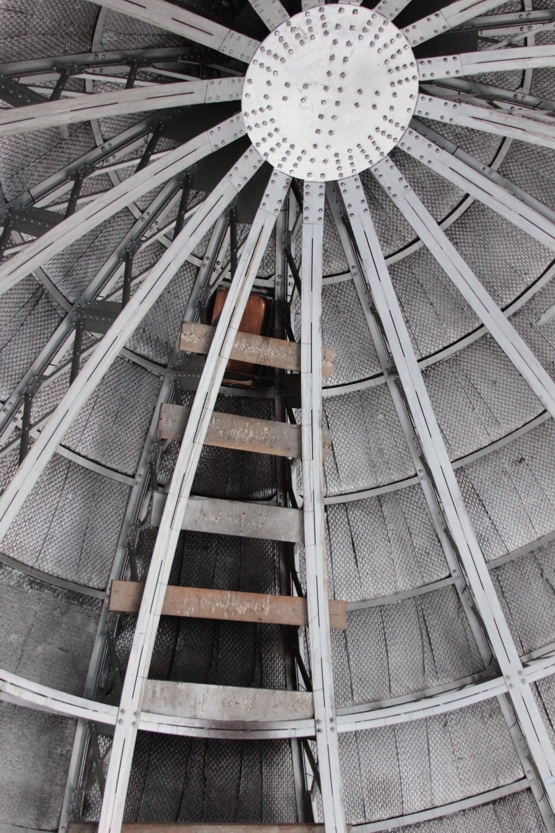 CLICK ON IMAGE FOR A BIG VERSION IN A NEW WINDOW

CLICK ON IMAGE FOR A BIG VERSION IN A NEW WINDOW